As a core part of BPDTS's organisational culture, we're creating an environment where learning is key to everything we do – where time spent working equals time spent learning. The BPDTS Product Talks provide an opportunity for our people to learn as part of their continued personal development.
BPDTS Product Talks are hosted by our Product Design practice. The programme showcases best practices in product and service design and it's open to everyone within the organisation. The sessions also shine a light on the impressive BPDTS expertise and capabilities that support the Department for Work and Pensions.
Services are invisible
In the latest Product Talk, we heard Lou Downe, former Director of Design and Service Standards for the UK Government (GDS), speak about service literacy or our ability to know what a good service is. It's a lot easier to recognise a bad service or online experience, for example, trying to cancel an online subscription when there is no link that says, 'cancel my subscription'. When people use a well-designed service, it's invisible.
Lou explains: "Services are invisible by their nature. They're the spaces between things; the space between you booking something and when it arrives; getting diagnosed with a condition and being treated; realising you've lost your job and getting benefits. We don't see services as users or service providers; they sink into the background and go unnoticed until they go wrong."
During the session, Lou talked about the new book, Good Services: How to Design Services That Work, sharing some top tips for designing new services. The book lays out the essential principles for building services that work well for users.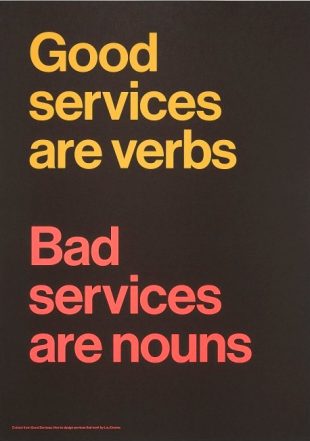 Good services are verbs
Lou's candid talk revolved around 15 principles of good design. Here are just a few nuggets of insight shared during the session.
Good services are verbs and bad services are nouns. Describe services in a way that people can find what they need to do: Tax your vehicle. Get help with court fees. These examples are clear and easy to find online because good services are also easy to find.
Designing good services saves money and makes people more efficient. But it's never going to hit the headlines. However, when the cost of fragmented services is added up, it's expensive to tax payers, users, organisations and governments.
Bad services ruin lives: they don't just make things inconvenient or more time-consuming. They can have a fundamental effect on us. To demonstrate the point, Lou shares a story of the difficulty one individual faced paying off student loans as a result of the misalignment of a company's performance goal and the needs of the user.
Nothing is more critical than a service's name. The name should reflect something a user is trying to do, 'How to become a childminder' or 'How to pay a bill.' Lou advises designers use words that people understand, not jargon. Why say remittance when you want someone to make a payment?
But what exactly is a 'good' service and is there a definitive approach to how to design one? The book "demystifies what we mean by a 'good' and 'bad' service, describing the common elements within all services that mean they either work for users or don't."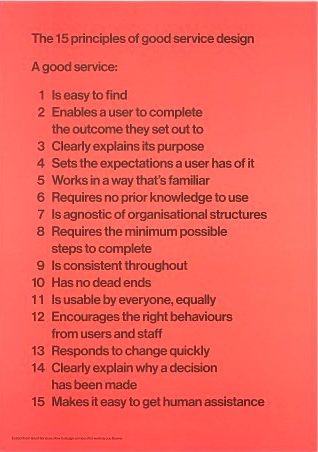 User-centric
Good design is user centric and the objectives should drive the right outcomes for everyone. Can a person find a service quickly when they need it? Can they complete a service from end-to-end, especially if they're interrupted while using it? Saving time and steps. Reducing errors. Shortening processing times. These are all critical outcomes to consider when designing a good service.
Service design an ongoing process
Service design is a rapidly growing area of interest.  Already, there are more than 10,000 services available through GOV.UK, but digitalising services originally meant to be handled face to face can be challenging. Service design comes with a lot of moving parts and stakeholders, including government ministers, experts in policy, legal, content design, all coming together with different views. The process of designing and delivering good digital services is an ongoing negotiation.
To consciously design or not
To be truly user-centric, an organisation must recognise that they are a service provider in the first place. They need to see their services as things that can and should be consciously designed.
"Organisations need more conceptive service literacy; they need to start to see services, understand what they are, what makes a good service, how to design them, and then commit to design their services well," explains Lou.
All the choices we make when designing a service affect that thing we create. That thing will go on to impact someone's life. Putting the money, effort, and policy in place to redesign our services to make them better for someone using them is fundamental.
Energy, insight and enthusiasm
Lou's talk about designing great services was full of energy, insight, and enthusiasm. Who knew the rod fishing license service is the oldest piece of service design in the United Kingdom? It's true; Henry the VIII created it.
What a fantastic piece of design history – and a great opportunity to hear from an expert. Thanks to Phil Middlemass, Product Design Digital Service Practice Leader at BPDTS, for setting up the session.
You can find the book, a definitive guide to designing services that work for users, on Amazon.
Keep learning