In the run-up to International Women's Day, we sat down with Loveday Ryder, BPDTS's Chief Executive Officer, to talk about her journey as an engineer and CEO. Before being appointed CEO at BPDTS, Loveday served in the Ministry of Justice, where she successfully held several senior roles in organisation design, change management, and programme delivery.
International Women's Day (8 March) is a global day celebrating the social, economic, cultural, and political achievements of women. The day also marks a call to action for accelerating gender parity. This year's theme is #EachforEqual – an equal world is an enabled world.
Fight bias, broaden perceptions
Individually, we're all responsible for our thoughts and actions – all day, every day. We can actively choose to challenge stereotypes, fight bias, broaden perceptions, improve situations, and celebrate women's achievements. Collectively, each one of us can help create a gender-equal world. "Talent is equally distributed across the genders," explains Loveday. "We want to be naturally inclusive – so equality of opportunity runs through everything we do."
A transcript of our conversation with Loveday on the importance of International Women's Day follows.
Why is it important for BPDTS to celebrate International Women's Day?
I think everyone needs to celebrate International Women's Day (IWD). Thankfully, women are productively employed in almost every area of our society and are making contributions wherever their talents take them. I think we should think about it in particular in BPDTS because, as a digital and technical services company, we know this is an area where women are chronically under-represented – about 20-25% of the workforce.
Whilst we can do all we can to ensure women prosper and succeed once they've joined us – the bigger task is to talk to girls in schools and colleges and influence their career choices; that's where we can role-model and champion the cause, showing them they can work in tech – and do very well.
Why is International Women's Day important to you?
It's important to me in particular, because I have a 9-year-old daughter who now faces a far more equal landscape for her career choices than I had. In my day, you had to be determined and fight for every opportunity – and I managed to do that and get through it. But fundamentally, I'm drawing attention to IWD to make sure she won't have to. I want her choices to be formed from having a full range of opportunities in her education and experience, not skewed by someone else's judgement of what she can or can't do.
What does the International Women's Day slogan, #EachforEqual, mean for you in your work life?
In my work life, I think it's about setting a tone and expectation of equality. I want to create an environment that makes it unthinkable that we should be anything other than equal – so the question never arises. That's the basic level.
Then I want us to go further and provide positive encouragement through coaching and mentoring to ensure the women who work for us really feel enabled to achieve their potential.
Finally, I want us to be active in the community, helping attract and develop the stars of tomorrow through work experience, speaking in schools, and attracting women back into the workplace after taking a career break.
Why did you choose to become an engineer?
Honestly, I believed these predominantly-male professions needed women to help them! There was a serious campaign when I was at school called WISE, Women Into Science & Engineering. The campaign was so compelling; I believed it was my duty to become an engineer.
I can remember asking which branch of engineering had the fewest women. At the time, it was civil engineering. I concluded civil engineering would have to be it. So off to the building site I went! It was a tough gig – but I actually enjoyed it.
I was fortunate enough to be reasonably good at maths and sciences, which of course, you need. I'm quite proud of the path I took and of getting right through a degree and becoming chartered. Although I'm now in digital, I love working with our engineers. There's often a very practical and down to earth way of operating I find comfortable. It's immensely satisfying to roll up my sleeves and get involved in a problem.
Why is it essential more women take up STEM roles?
Organisations and teams are better for a diverse workforce; it's healthier, and you get a much more rounded set of ideas. I think we lack perspective when we're so predominantly male. It's nonsense to believe talent isn't equally distributed across the genders. Thinking that way means we're missing a lot of the naturally gifted women scientists and engineers because they've chosen a different path – and we need them back!
Have you encountered any related challenges in your career along the way to becoming a CEO?
Challenges – yes, plenty! Especially in construction in the early days. I was the only girl on my master's course, then one of two on the construction site. In these environments, they tested you subtly to make sure you could do the job before being friendly – but that's probably natural.
What annoyed me more were the thinly veiled questions about whether I was planning to have children any time soon, which were commonplace. My all-time classic was being asked at the interview whether my husband approved of my taking the job. Shocking now – but quite normal then. Thankfully now it is rare. Fortunately, the more senior you get, the more equipped you are to set the tone for the organisation.
Is there any experience you'd like to share that's inspired or challenged you to get where you are today as a woman?
Once I got turned down for a job, despite an interview where they had been asking when I could start. Instead of giving up, I asked some awkward questions about why they'd changed their mind. It turned out the interviewer's boss thought the job would be 'too stressful for a woman.' I managed to persuade him to meet me, talked it through, and eventually secured the job offer. I then took great delight in turning it down!
The hardest challenge was coming back to work after my maternity leave. I had no appreciation of how difficult it would be, how my confidence had been knocked, or how hard I would find it to get my hormonal and sleep-deprived brain to function. But several months on, I felt better and soon recovered. Now I don't underestimate how much support people might need. I also recognise motherhood changed me profoundly, giving me a whole new set of skills to give back in the workplace.
Why do you think we need to increase the visibility of female role models for young women?
Half of choosing a career path is learning about it and what sort of work you might do. If girls in schools don't see women in technical careers and learn what's possible, they're likely to stick with the same old career choices. Technology, especially in the public sector, is such a great choice for achieving something tangible and purposeful. It's that idea that motivates people. Likewise, there's a good blend of teamwork and individual endeavour appeals.
Maintaining the quality of work and life is a powerful factor for people considering how to combine a career with family choices. But if we don't advertise this, then they may not consider this type of work. At BPDTS, we offer flexible and Smarter Working options that can provide a better work-life balance.
Did you, or do you have a female role model who inspired you?
Yes – I once read a book about the history of science called Age of Wonder; it's a brilliant read. What struck me was the number of unsung women who stood by their men, but weren't considered or were ignored when significant discoveries were celebrated.
One woman who stands out is Caroline Herschel, William Herschel's younger sister. William was an astronomer and Caroline was his assistant. Caroline's independent career grew, and she eventually became the first female to hold a government position (as the assistant to her brother as court astronomer). She went on to become one of the first two women to join the Royal Astronomical Society. For me, she was indeed ground-breaking and a real inspiration.
Do you think there's a stereotype attached to women working in STEM roles?
I don't think so – at least not in digital. In other areas, we'll know we've ironed it out when Disney princesses become engineers and when we get proper technical LEGO for girls. At the moment, the girls get the shops and castles, and all the technical stuff is transport and space-related.
What do you think is the biggest issue today facing women in the workplace?
I think many women can be naturally modest and sometimes doubt their abilities. Sometimes we consciously undersell ourselves. As a consequence, people fail to grasp opportunities they might have taken with a little extra encouragement. If we can support people in building their self-belief, challenging the thinking that says 'I can't do it' and empower them to believe they can – that would be hugely positive.
Is it important for women to lift each other up, and what does it mean to you?
Absolutely. In my early days, I met a few successful women who, having made it, then became even more challenging than their male counterparts – a sort of tendency to 'out macho' the men. There is a mentality that says, 'I had it hard and had to prove myself, and now so must you.' I try not to be like that. I believe I have a responsibility to nurture and encourage people, not make them suffer. Leadership is about who you develop and bring with you, not just standing on a mountain top and saying 'follow me.'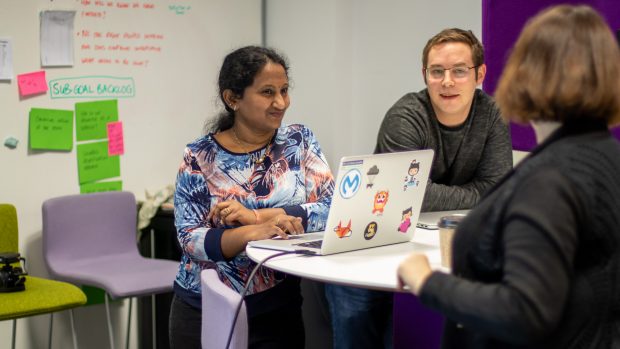 What's the most important message you want to send out to young women thinking about their careers?
Try everything. Get some work experience in a variety of sectors before you box yourself in with subject choices. Choose a career that appeals to you and DON'T BE LIMITED by what you think is a 'traditional' choice. YOU CAN DO ANYTHING YOU WANT if you work hard at it.
What piece of advice would you give to a woman thinking of starting a career in technology?
Technology is a fascinating choice, and there's so much to achieve and experience. Think of yourself as an equal part of the team, work hard, and keep learning. You'll be amazing. I'd also try and find a mentor or someone who inspires you. Then quiz them about what makes them successful.
How is BPDTS developing its support for women involved in technology roles (STEM and management)?
We have an active group supporting Women In Digital, and we have just set up a mentoring programme for women with Code First Girls. We have also collaborated with DWP on their Digital Voices programme, helping women find their voices and to get more confidence communicating.
Fundamentally, I want to make sure everyone at BPDTS feels supported and can achieve their potential, whatever their background or gender. We want to be naturally inclusive – so equality of opportunity runs through everything we do.
Learn more