Ask any successful person about their career trajectory, and you'll discover there's a mentor (or mentors) somewhere in the background. People who set themselves apart aren't afraid to soak up the years of wisdom and experience from the people around them. It's what makes their career progression stand out. Getting a grip on your professional development takes energy, resilience, and guidance. You can't learn in a vacuum.
Set the bar high
When it comes to employee-driven career development, Sarah Walden, an Associate Project Manager at BPDTS, set the bar high. Recognising there were opportunities within BPDTS for someone with her experience, Sarah put a plan in motion to develop her skills in the delivery management space. Using a proactive strategy including, mentoring, shadowing, online training, and external courses, Sarah navigated her way towards a new destination.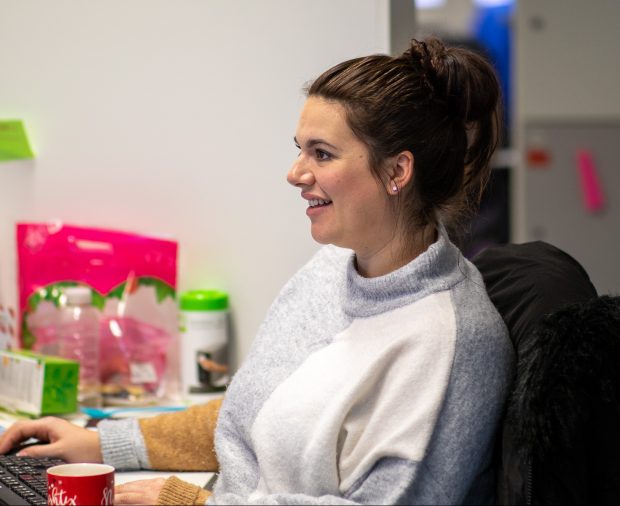 Sarah celebrated her first anniversary at BPDTS in December 2019. In our On the Spot interview, we learn more about Sarah's journey.
How did you end up at BPDTS?
After relocating to the North East from London to find a job, I accepted a fixed-term contract working in business support at BPDTS. Before joining BPDTS, I was a project management officer (PMO) at Open Banking. However, the new role and move meant I had taken a step back, leaving my PMI experience behind.
What were you hoping to achieve with a mentor?
I could see there were opportunities within BPDTS for someone with my experience. Although I applied for a couple of roles internally, I was unsuccessful. The experience knocked my confidence slightly, but I didn't want that to hold me back.
I knew BPDTS offered a mentoring scheme, so I approached Steve Philpott, the Delivery Management Practice Manager, to see if he'd be my mentor. I met Steve when he first joined BPDTS, supporting him whilst working in the business support role. In that capacity, I helped Steve when he needed to interview people, set up Jira tickets, and assisted him with other business support activities.
Steve agreed, and we arranged our first session. At this meeting, we discussed my experience and what I'd like to achieve before formulating a plan to help me progress. Initially, Steve started by introducing Agile and explaining the Scrum framework, which at first seemed strange as I was more used to a waterfall approach.
To help my understanding, Steve reached out to one of his Agile Delivery Managers, Will McLean, to see if I could shadow him and attend some of his daily Scrums to see the theory in practice. This practical understanding confirmed delivery management was the right area for me to pursue.

How did Steve help you as a mentor?
I immediately felt at ease with Steve. When we first met, we'd talk about work, how we ended up at BPDTS, and what we'd done beforehand. Steve had previously delivered projects using both waterfall and Agile methods, so he was able to share knowledge based on this experience. He recommended several books, online training, and external courses. One of these courses was CSM, which I have now completed and achieved my certification.
Through Steve's suggestions, I set myself some goals to achieve. He helped signpost the way for me to develop the new skills I needed to be successful. As my skills increased, I took on projects aligned with the direction I wanted my career to go. He supported the path I'd set out to achieve. His encouragement made me realise I was on the right track.
Additionally, Steve put me forward for a training session during the learning at workweek. In that session, we learned about Kanban by playing the GetKanban board game. Lastly, due to Steve's role as Practice Manager, he also had a multitude of contacts he introduced me to; this assisted me in broadening my knowledge of delivery management as a whole.
What steps as a mentee did you take to move forward?
I took any opportunity to get involved in different projects outside of business support to get more experience and visibility. One such example was supporting the communications around the MyTime application rollout. It was during this rollout that an Associate Project Manager role materialised.
Steve encouraged me to apply and assisted me in a different mentoring capacity by helping me update my CV and write a cover letter. I was successful, and I'm now an Associate Project Manager working within Special Projects.
What else are you doing to improve your skills?
I'm learning a lot on the job and have the support of my teammates and manager. To continue my development path, I have placeholders for different bite-sized learning sessions in my calendar. These are 30-minute lunchtime training sessions delivered by members of the delivery management community.
I've also signed up for the PRINCE2 Foundation course at Newcastle College. I'm also looking to complete the Professional Scrum Master exam and attend the Kanban Management Professional course in March. To continue building my professional network, I plan to attend some of the Agile North East meetups as they're great for networking and interacting with other Delivery Managers.
What's needed to make a mentoring partnership successful?
You have to get along really well with your mentoring partner. Any relationship is a two-way street. Steve and I hit it off right from the outset. Chemistry makes a considerable difference in how successful your partnership is. I found Steve to be approachable, knowledgeable, and we got on well together.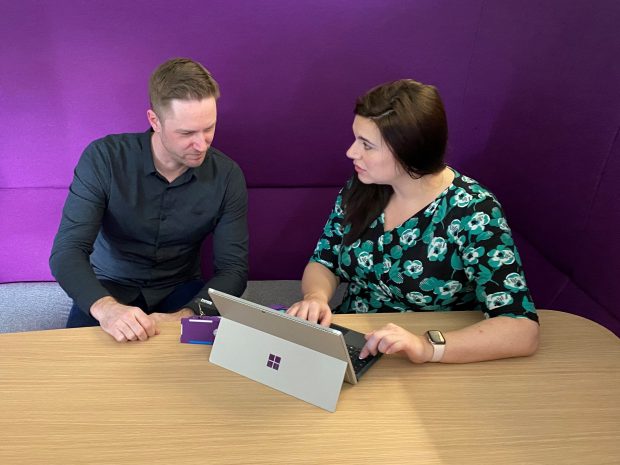 Sharing common interests and life experiences helped break the ice. Steve's journey to BPDTS was similar to mine. He lived in Bristol and then moved up to the North East. Plus, his skill set matched where my interests lay as well.
Would you recommend a similar path to other people?
Yes, most definitely, I would. If I hadn't been proactively using Pluralsight and Udemy, job shadowing, and working with Steve as a mentor, I wouldn't be in this role now. The combination of networking, coursework, and having an advisor like Steve strengthened my application.
What would you do differently, or suggest other people add to the mix?
If there's one thing I would recommend, it's to work with someone to refine and build your CV and personal statement. It sounds like icing on the cake, but for anyone who doesn't know you, your personal statement is the first impression they get. Working with someone to help get that balance of who you are, what you do, and how you approach work and life is essential.
When you're applying for a role, you need to create a compelling personal statement. That's your filter to help get you to the next step. After that, it's an interview, and that's down to you.
Do you think you've made the right decisions about your career path?
Yes, I've definitely made the right decision. I feel much more confident in my role now than when I did when I first started, and I'm learning every day.
What's next?
Now that I've completed my Certified Scrum Master qualification, and being around so many Agile projects, I have a desire to pursue a career as a Scrum Master. I'll be taking my Professional Scrum Master exam later this month, and I've also booked on to a Kanban Management Professional course too.
Final thoughts for anyone in a similar situation?
Stay positive. A setback isn't necessarily a negative. Learn from the knocks. Get up and keep moving forward. It's like what they teach you in Agile: failing fast is a great way to learn
Nothing is given to you in life. Don't expect things to get handed to you on a plate. If you want something, you have to work hard to get it and grab every opportunity when it presents itself
Create your own path. The mentoring programme at BPDTS gives you the chance to find it
Pay it back. When you're ready, return the favour. Sharing your experiences and knowledge with the next set of bright, up and coming individuals is a great way to say thank you
Learn more
Like this blog? Why not subscribe for more blogs like this? Sign up for email updates whenever new content is posted! Stay up to date with what's happening at BPDTS. Connect with us on LinkedIn, and follow us on Twitter.