Mentoring is gaining momentum as a professional development approach. On its own, mentoring isn't a silver bullet to solve either an individual's development needs or meet an organisation's learning objectives. The impact and value of mentorship exponentially increase when it becomes one of many tools in your development toolbox. Used in conjunction with other activities including, coaching, shadowing, peer to peer training and formal training, mentoring complements a more comprehensive approach to career mobility and professional development.

A bumpy start
My journey here began in 2016 when the DWP account was insourced, and I transferred from Hewlett Packard Enterprise (HPE). The difference between the 2 organisations was palpable. At HPE, I'd grown accustomed to the structure, breadth of resources, and extent of opportunity across the broader enterprise. I was relatively in my comfort zone. In my new role and at my new company it was quite different.
Newly formed, BPDTS had less structure. Being leaner, flatter, and expanding quickly, I lost the network I'd grown to trust when I moved across from HPE. I felt like I was operating in a vacuum – the structures and processes were either new to me, weren't yet in place or maybe weren't working effectively.
The pace of expansion meant new people were coming on board all the time. As more people transferred over from HPE, I realised I wasn't alone in how I felt. Like early colonists, there was a feeling of being left to fend for ourselves. We felt isolated, undervalued, and abandoned in our new organisation.
Stay or go?
I stood by, watching all these new people coming into the company as it grew at pace. I remember thinking; what about me? what about developing us? After being overlooked for jobs getting filled by external hires, I was ready to pack it in. I applied and interviewed for an Agile Delivery Manager position. Although the interview went well, I wasn't successful in securing the job due to my lack of hands-on experience in an agile team. Disheartened and demoralised, I felt a bit trapped. My career seemed to have hit a brick wall. Was leaving BPDTS the only way to get ahead?
Enter the mentor
That's when I started meeting with Dave Hall, one of the Senior Project Managers who had also migrated over from HPE. Dave quickly became a lifeline of support. When I met with him, I vented my frustration with what appeared to be a dead-end career track. Dave's involvement changed everything.
What started as random support correspondence, morphed into weekly meetings, and then into a formal mentoring relationship. My partnership with Dave as a mentor was the start of a new beginning. At first, our meetings focussed on my immediate goals: gaining recognition for the level of role I was performing and then working towards becoming an Agile Delivery Manager.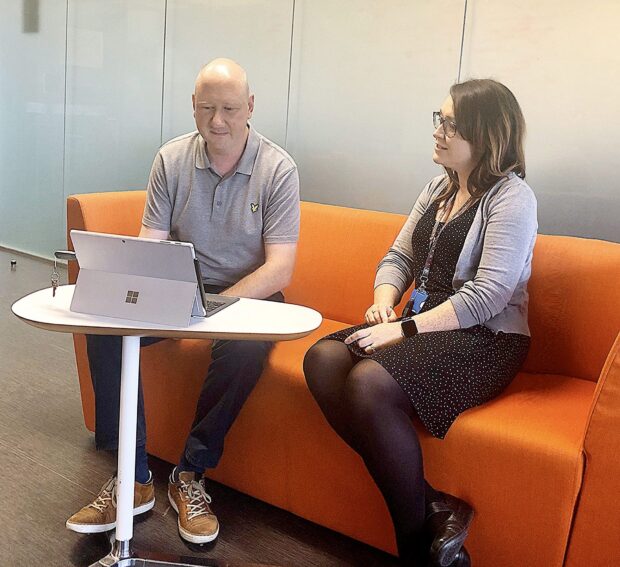 Championing my cause
Dave was instrumental in helping me to be recognised as being a full working level Project Manager. Although I'd worked in the latter role for some time already, I wasn't formally recognised as having achieved that level of project management. The situation was a big bone of contention with me. Through Dave's advocacy and support, and upon feeling valued by my new company, it felt as if the sun had come out for the first time in months.
The next goal was to develop myself to be able to move into an Agile delivery role. Working with Dave, I carved out a plan to build out the skills and experience to achieve that. Dave helped me to work on different areas of personal development, including confidence building, skills development, and a career progression plan.
Less than a year after achieving the first step of being confirmed as a working-level project manager, I was successful in securing an Agile Delivery Role. The combination of my development efforts, Dave's guidance, and the way my company itself developed as an employer are what made my career advancement possible. Like any start-up, we'd experienced growing pains. As we matured, so too did our policies and programmes.
An evolving partnership
Dave provided essential support, empathy, and guidance at a pivotal point in my career. He signposted me towards the technical skills needed for the path I set. Together, we created a winning strategy that helped me advance professionally.
The mentoring experience was as rewarding for Dave as it was for me. He gained insight into how employees like me who are working their way up the career ladder feel. In a way, emotional intelligence and empathy are like a superpower. Being sensitive to how other people feel – especially as a manager, is a vital skill to develop.
In just a few years, our relationship has evolved from mentorship into one of mutual support and collegial respect. Building on positive interactions, we hauled our Phoenix from the ashes, creating optimal outcomes from a place of adversity.
From surviving to thriving
Without a mentor, I might've left feeling let down. It's been a complete turnaround for me. I changed from an unhappy, disengaged employee, always moaning about my situation, into someone capable of achieving her career aspirations.
Today, I feel at home and part of a great community here at BPDTS – even to a greater extent than when I was at HPE. Together we've all changed for the better: me, my company, and my mentor; Dave. Thanks in large part to mentorship, I'm now thriving and I'm glad things turned out the way they have. Not only am I where I want to be, I'm also in a position where I can help others to attain their career aspirations.
Paying it forward
I'm living proof it's possible to change the direction of a stunted career path through a combination of mentorship, coaching, skills development, and shadowing. Now it's my turn to give back. I'm still a mentee, and I'm also a mentor. Additionally, I've picked up the mentoring scheme mantel to continue developing the programme at BPDTS.
Much like teaching, mentorship is tremendously satisfying for those who provide support and guidance. It's a different avenue for more advanced professionals like Dave to take. Mentoring is an opportunity to flex critical leadership muscles in another way.
Developing a successful mentoring partnership is hard work. If you're considering becoming a mentor or a mentee, here are 5 tips to take on board:
remain open to questions, suggestions and create a safe harbour for dialogue
set goals and limits for what you need to achieve
commit to direct communication and trust
your mentor isn't a magician; they can't wave a wand and solve your problems; that's down to you
create synergy by making mentorship a fulfilling experience for the mentor and mentee
Good luck!
Learn more
Like this post? Later in the week, you'll hear from Dave Hall, Emma's mentor. Why not subscribe? Signing up for email updates means you'll never miss a post.
Stay up to date with what's happening at BPDTS. Connect with us on LinkedIn, and follow us on Twitter.
Does mentoring form part of your organisation's professional development strategy? Why not comment on our post to share your experience? You can also connect with Emma through LinkedIn.