Helping other people attain their career and life aspirations through mentorship isn't something I thought about 10 years ago. But when it did happen, it fulfilled something in me that I hadn't realised was missing.
Discovering hidden depths
I'm the mentor in a mentoring partnership with Emma Moore, a talented, less experienced employee. Emma and I hadn't directly worked together at HPE before we transitioned into BPDTS, but we had some interaction where our projects had impacted.
In BPDTS, our partnership didn't start as a formal mentoring engagement. It happened gradually. Initially, Emma reached out to me for some general advice when facing a tricky work situation. Emma needed a trustworthy, impartial person to speak to about what way to take her career forward and how to get there. At a time when a colleague needed support, I stepped in as a mentor.
A catalyst for change
Emma and I had already been meeting a few times a month when BPDTS introduced a formal mentoring scheme across the organisation. In a safe environment, Emma could test and validate what she was thinking, weighing up the pros and cons of her decisions. Sometimes we simply met so she could blow off steam. Formalising the programme propelled what Emma and I had been doing into a more proactive approach to professional development.

Putting a name to the scheme was a catalyst: what started as casual meetings crystallised into formal mentoring sessions. Together, Emma and I identified a set of goals and began working on a path to achieve them using a structured approach. Our experience helped shape elements of the BPDTS mentoring programme today.
Learning to swim in a safe harbour
Over time, Emma's confidence and competence improved dramatically. For example, Emma's knowledge and experience concerning agile delivery grew significantly, as did her ability to engage confidently with senior leaders. Facilitating difficult discussions became easier. I watched Emma systematically work through challenges, turning activities she once dreaded into things she enjoyed. With each new milestone, Emma's visibility at BPDTS increased. She felt at ease about putting herself in the frame to lead new projects – in her role, and as a volunteer to develop new skills.
A natural development approach
Mentorship is an inherent aspect of personal and professional life. We do it without even realising it. Colleagues seek you out to bounce ideas around, discuss an issue they're facing in their team, or talk through strategies to overcome blockers. People quite naturally wish to do well in their positions, challenge themselves, achieve recognition, and progress to new roles.
Working together to solve problems, accomplish tasks, complete projects, and gain expertise in their positions, creates an awareness that personal and organisational goals are easier to achieve in a cooperative environment. Fairly quickly, people begin to help each other, not only to satisfy immediate objectives but also to meet future goals. So, just as mentorship has roots in family and community, it can just as naturally develop in the workplace.
A mix of mentoring and coaching
The process of helping one another involves a mix of mentorship and coaching. Once you establish the ground rules with your mentoring partner, the process of getting to know each other can begin. Your mentoring partner needs to understand who you are, what your role is, and how you can help them achieve their goals. Keeping an open mind is essential. Mentoring isn't just about getting to point A. It's a process for learning and development.
As your mentee develops in their role, they'll want to discuss what their future interests are and the avenues they can take to achieve their goals. As trust in your partnership grows, it becomes easier to have awkward conversations about shortcomings, fears, and strengths. As an objective peer manager, Emma felt comfortable sharing issues with me. Through honest discussion and feedback, we put a plan together and worked towards a set of outcomes.
Tapping into a bigger network
In both mentoring and coaching, each individual has a network of personal and professional contacts. These connections represent the collective years of experience on both sides of the relationship. Pairing employees with different levels of experience opens productive doors for both people. It invigorates more experienced employees, managers, and even executives with fresh ideas and outlooks. What fuels personal growth for both parties is the unique combination of knowledge and experience each person brings to the table.
Empathy and self-reflection
Emma wasn't the only person benefitting from the mentoring. I was learning new skills, too, giving back to the organisation in ways I hadn't done in the past. Drawing on my own experiences, mistakes, and triumphs, was a tremendous help to Emma as she navigated her way along a career path. What surprised me the most about becoming a mentor was how much I learned along the way – about myself and how I needed to improve. The experience had a profound impact on me.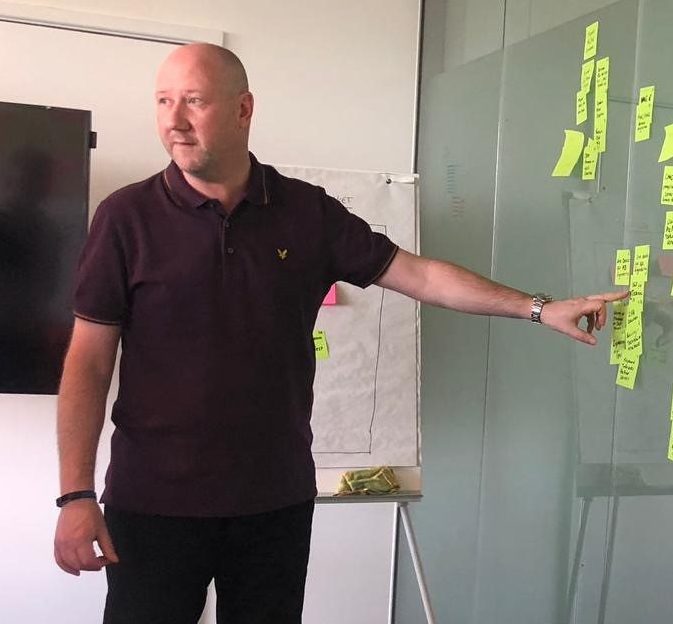 Seeing myself in a different light – through a colleague's eyes, taught me a valuable lesson in empathy. After a meeting with Emma, I'd sit back and think about my actions; such as how I responded to people in different situations 10 years earlier. Suddenly, I was thinking about the impact I had on the people around me now. How would the email I'm writing affect the recipient? Is there a different way to approach this problem?
I began to modify my behaviour – for the better I hope. I learned the value of empathy. Gaining insight into how someone feels in the current position in their career was an eye-opening experience; it changed how I engage with people everywhere.
The ripple effect and systemic benefits
For mentors, the benefits include expanding your leadership role and legacy. The process builds an appreciation for people with different circumstances and challenges. Being a mentor allowed me to enjoy and appreciate the success of others vicariously and the part I played in helping them achieve it. In important respects, it satisfies an educational role for more advanced and experienced leaders within the organisation. Never underestimate how good you'll feel watching someone succeed.
For mentees, the process helps in building confidence, empowering, and inspiring them. It creates an environment where people turn outward and focus on beneficial interaction. People tend to be more mindful of their interactions because they're more aware of context and how this impacts their reputation, credibility, and integrity.
Together, these positive impacts ripple outward, strengthening the leadership and mentorship culture. The tangible systemic benefits, beyond mentors and mentees, include greater stability and retention of people: due to greater job satisfaction, more significant opportunity, and promotion and advancement from within the organisation.
Mentoring also refines the process of lining up existing skills and talents of employees for specific roles. It infuses vitality into a system where positions can become repetitive and tedious. Perhaps most importantly, it gives voice and expression to experience.
Inducement for cooperation
Mentoring offers the best of both worlds – you give and receive. It's a reciprocal arrangement. When implemented flexibly, with an eye toward the balance of personal and organisational goals, mentorship can yield tangible and mutually rewarding results for benefactors and beneficiaries alike. Not only do the individuals within the partnership benefit, but the organisation as a whole also reaps considerable benefits too. The result is the optimisation of individual skills and talent, increased job satisfaction, plus greater systemic efficiency and output.
An investment with big dividends
To actively engage as a mentor takes commitment. You need to fence off the time to focus on the individual. Commit to partnering with the person. Stick with them while they develop. As a mentor, your best approach is not to provide the answers. Instead, it helps to generate the right questions the mentee wants to answer. Ask your mentee what the answer to the exam question is. Then let them solve it.
My advice for anyone wanting to get involved as a mentee is to be open and honest. Put a plan in place to develop and refine a set of primary goals, monitoring, and tracking how these goals progress. Ultimately the goal is for people to move on in their career.
Growing by experimenting, trial, and error, making mistakes and learning from them – that's part of all of our personal development. There's nothing more rewarding than watching someone make that leap, love the experience, and then carry the mentorship baton forward by putting themselves out there for someone else's gain.
Learn more
Does mentoring form part of your organisation's professional development strategy? Why not comment on our post to share your experience? You can also connect with Dave through LinkedIn.
Like this post? Why not subscribe? Signing up for email updates means you'll never miss a post.
Stay up to date with what's happening at BPDTS. Connect with us on LinkedIn, and follow us on Twitter.