When I walked into the BPDTS Manchester hub on my first day, I knew I had chosen the right job. Upon arrival, the DWP Pride board and presentation for LGBT History Month greeted me. It was a breath of fresh air. Immediately, I felt included and comfortable. At BPDTS, the LGBTQ+ community doesn't get ignored, far from it. I popped a rainbow pin on my lanyard right there and then.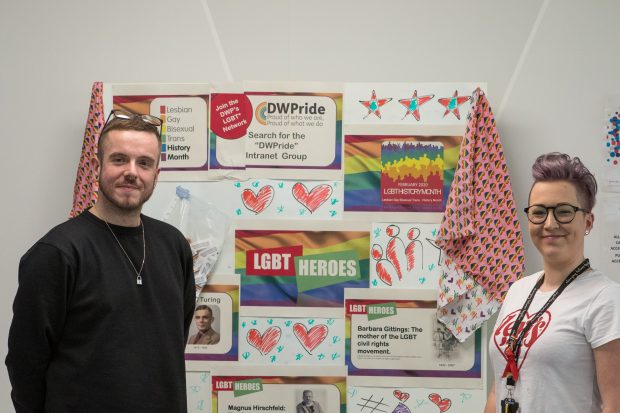 An alienating experience
Early in my career, I lived a lie at work. Back then, colleagues made homophobic comments in front of me about celebrities and public figures. I had only just come out to my family and friends, and these comments instantly made me feel like I couldn't be myself. To acknowledge my personal life in any real way seemed impossible. My colleagues at the time never knew I had a girlfriend or that we lived together. To keep up appearances, I maintained the charade. I lacked the confidence I feel now –  as a proud gay woman. Hearing insensitive comments at work left me feeling marginalised.
Ultimatums are not support
At work, I confided in one person I thought I could trust. However, all this person did was push me to be honest. They said they would 'out' me if I didn't admit I was gay. But I wasn't ready. They thought they were trying to help me; instead, their ultimatum created anxiety, making me feel insecure.
I had only just acknowledged my sexuality with my family. Having to continue to pretend to be straight at work made me miserable. Finally, living as my authentic self at home, after being unhappy for so long – I wanted to share, but I couldn't. It took all my courage to tell my family; I didn't feel strong enough to fight the same battle at work. Pushing someone to come out before they're ready is not supportive; it's bullying.
Hard choices: live a lie or leave
The longer it went on, the more and more difficult it became to live a lie. Rather than tell my coworkers I was gay, I left the organisation. I don't doubt my previous colleague still holds the same uneducated and homophobic views. They will never realise the negative effect their comments had on me.
A place of strength and self-confidence
The woman I am today would never accept that behaviour. I've taken a long time to get to this place of strength and self-confidence. Working for BPDTS means I bring my whole being to work every day. My colleagues know all about my life, my recent engagement to my wonderful fiancé, our house move, and the wedding. We share our weekend plans in comfort and future life plans with a feeling of safety and trust in each other.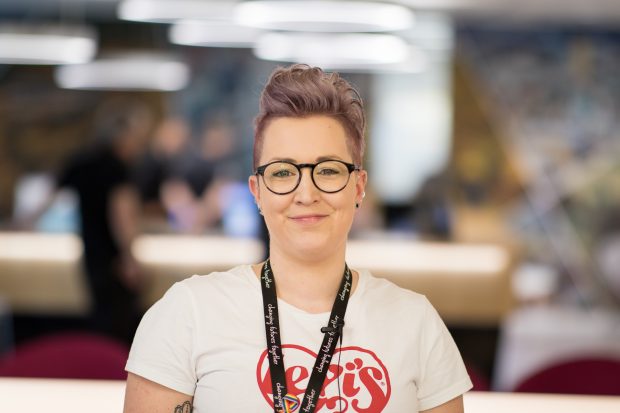 Happy in my skin at BPDTS
The different experiences I encountered are like night and day. I am happier and feel vested in BPDTS as an organisation because they value who I am as an individual. I want my story to help others. Hopefully, it will offer strength and guidance to someone who might also be struggling with their identity like I did.
Last year, I walked proudly alongside my BPDTS and DWP colleagues in the Manchester Pride parade. The experience was empowering. My involvement in the BPDTS' LGBTQ+ Naturally Inclusive workstream makes me incredibly happy. Working across the business allows me to reaffirm a critical message: homophobia and judgment have no place in the workplace. BPDTS has a zero-tolerance policy.
Your environment must reflect your community – and this applies across all the equality strands. The importance of LGBT History Month and building awareness are vital to creating a cohesive community and an inclusive workplace.
Working in an environment where you are comfortable in your skin makes all the difference. If you feel you need any help and support in your workplace, please reach out to me on LinkedIn.
Watch the video to hear how important LGBT+ History Month and workplace inclusion are at BPDTS.
Learn more
Like this blog? Why not subscribe for more blogs like this? Sign up for email updates whenever new content is posted! Stay up to date with what's happening at BPDTS. Connect with us on LinkedIn, and follow us on Twitter.