My name is Anne-Marie Goulden; I'm a Digital Service Practice Manager in the Engineering practice at BPDTS. I'm part of a work stream focused on continual conversations and performance management. Today's post is part 2 of a 2-part series that explores how BPDTS is taking a bottom-up approach to change management.
When BPDTS first started up as a company, we operated with an outdated, tick-box mind-set. Our objectives were set at the beginning of the year; we had a checkpoint halfway through the year on how we were doing against objectives; then, at the end of the year, we measured backwards.
In an organisation that demands flexibility to allow for shifting priorities and objectives, we needed to be more agile in how we approached performance management. It's not just our partnership with the DWP Digital Group that's creating the need for more flexibility, either.
COVID-19 is a disruptive adversary. In response to the crisis, our focus shifted instantly, prioritising vital projects and services. In anticipation of lockdown, we needed to ensure everyone at BPDTS, and the DWP was well-positioned to continue operations.
With the pandemic acting as an accelerant to digital transformation, we wanted to enable that same flexibility around performance. To decalcify our performance management process, we needed a more dynamic way to evolve and reset objectives.
Built-in flexibility
At BPDTS, we need our employees to be equipped for the present and the future. Asking what's important to my customer today is only one aspect of the question. How will we reframe our objectives and goals to meet what's on the horizon? How can we build that picture or path across the year ahead, not just as a rear-view mirror look back? Taking a more agile approach to performance management addresses these questions.
Agile or continual performance management is a more flexible approach to managing employee performance and development. Based on collaboration, regular conversations, and continuous feedback, agile performance management focuses on the process, rather than the destination.
Shift to continuous improvement
Continual performance management is a process designed to evaluate and measure an employee's performance – to identify room for improvement, highlight areas of success, and to generally check on how they're getting on. The employer gets to see how everyone at their company is performing. For the employee, it's a chance to see if they're delivering what's expected of them and learn how they could improve.
At BPDTS, our cultural ambitions for our performance management approach are clear. We want to harness a spirit of continuous improvement among all our people and motivate them to do the right thing, in the right way. The new approach allows us to move away from twice-yearly rear-view assessments towards a more agile process aligned with how we meet our business objectives.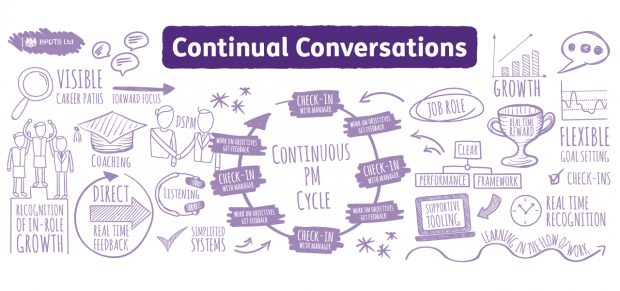 Personal accountability
In part 1 of this feature, I talked about how our new Continual Conversations initiative creates a space where people can tell their story by measuring backwards by a quarter, not a year. The process is more agile and allows our people to look at what's important today and what will be important tomorrow.
Everything we're doing at BPDTS plays into our aspirations as a people-centric organisation. Just recently, we introduced new performance standards. The driving force of change behind our new performance standards is making everyone accountable for helping to achieve our business objectives. Rather than have obscure or ambiguous standards, all of our objectives are tied to the organisation's objectives.
When an individual can bring that story into their Continual Conversations – using our performance standards as the guide rails, it gives everyone visibility into how they're affecting our performance as an organisation. 'Tell me what you did and how you did it.'
The 'what' and the 'how' are the 2 drivers for performance measurement. It's what we use to measure how BPDTS delivers to our customer, the DWP; and, how our team goals align with our customer. But are our processes inclusive?
An inclusive framework
The way we've designed the framework for performance is to ensure that it's fully inclusive across everybody in the organisation. The framework allows individual practices or areas to pick it up as a foundation and build on it, adapting it for their areas.
It doesn't matter whether you're a Java developer, you work in business support, in the communications team, or if you're an executive. The framework is based on the behaviours that we are looking for in our individuals:
personal leadership
learning and development
influence
Rather than be prescriptive, the standards are a framework that allows flexibility to fit into the different areas, including the team goals, as well as DWP and BPDTS's strategic themes.
Bottom-up approach to change
As employees, we're empowered by our executive team to take ownership of our company's cultural direction. Loveday Ryder, our CEO, and the leadership team have empowered the people who are working in our cultural work streams to come up with the solutions that will move BPDTS forward.
The changes in performance management we're implementing are a great example of personal leadership. As an organisation, we continually solicit feedback from our people. The work stream I'm a part of is now actively effecting change based on feedback using a bottom-up approach.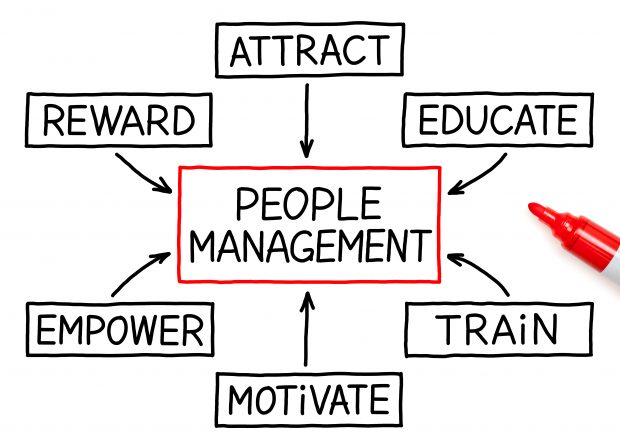 Not just lip service
BPDTS is an organisation that empowers individuals to make a difference. But when we started working on our performance management changes, we had some doubts about whether what we created as a new approach would be put into action. Would the recommendations we made, and the plan we developed get accepted? Or, would there be push back from the executive team?
When our newly designed performance management standards were accepted, people began to believe we had the power to make the change we wanted to see. Putting our ideas into practice boosted our confidence. It's gratifying to see that what we're working towards is making an impact across the organisation.
"When employees can engage with an organisation's primary goals, they feel an immense sense of pride in being part of that community and feel more compelled to be the very best they can be," explains Rich McHugh, Head of Digital Delivery at BPDTS.
BPDTS understands employee engagement is more than asking how the organisation is doing, or what we like about it. Like Continual Conversations, the responsibility for driving BPDTS's cultural transformation rests in the hands of its people.
At BPDTS, we're given the voice and empowered to implement changes. Employee-driven change management; that's a huge advantage of working here.
Learn more
Stay up to date with what's happening at BPDTS.
Sign up for email updates whenever new content gets posted.
Connect with us on LinkedIn, and follow us on Twitter.
Are you thinking of joining us? Please have a look at our current job openings.