Adam Nibloe joined BPDTS as an Associate Engineer in September 2019 as part of the Unified Communications team in Newcastle. In less than a year, Adam's evolved into an exceptional Infrastructure Engineer adding quality work outputs and value to the organisation.
On his journey, Adam's developed considerable expertise in Microsoft PowerShell and Skype as a Service, as well as Exchange and Azure which he did not know before joining BPDTS. Adam is rightly proud of his progress: "I've gone from being clueless about PowerShell and Skype to being a self-proclaimed genius in these programmes." We recently caught up with Adam to learn more about his journey.
Technology obsessed
When Adam was 5-years old, his father gave him his first computer: "I was on there all the time, playing games and trying to unpick how stuff worked. I didn't just use the software; I wanted to know what made it all work. I was especially interested in how things connected." That obsession has only intensified.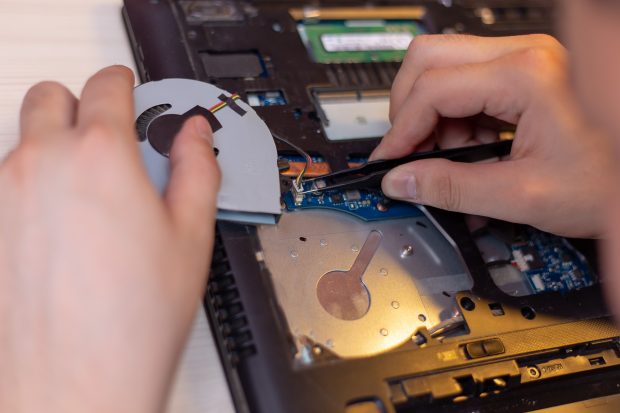 Adam continued his technology education at college, but the curriculum wasn't challenging him enough: "My skill levels were already advanced beyond the curriculum. Changing tack, I applied for an apprenticeship in networking." But, by the end of Adam's apprenticeship, he was feeling a little neglected. Although he had learned a lot, he felt like he was being held back. When his apprenticeship ended, Adam's hopes were dashed.
Spurred into action
The missed opportunity spurred Adam into action with all his research and instinct leading him towards the same path in networking and infrastructure engineering. "I almost didn't apply to the advertisement for the Associate Infrastructure Engineer role at BPDTS. I kept thinking, "I can't do all that; it's out of my league." I talked it over with my Mum and sister, and they pushed me to do it. Acting on their advice, I sent in my CV, and 2 weeks later, I received a call back for an interview."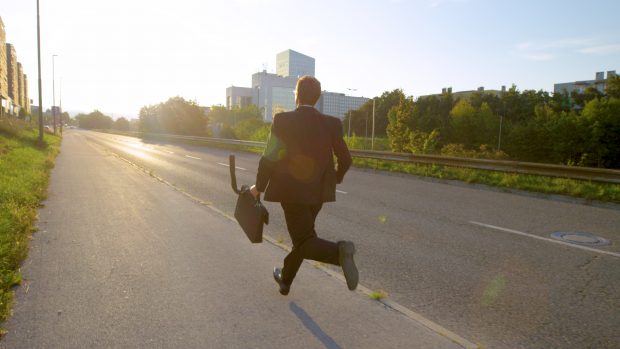 An adrenaline-fueled interview
Adam was well prepared for the interview, or so he thought. On the day, he ended up in the wrong building on the Newcastle site: "I was sitting in reception for half an hour when my current manager called me asking where I was. Realising my mistake, I sprinted out the door and ran for 10-minutes to get the right building. In mid-July, on a blistering hot day, there's me running full tilt through Benton Park View. As I was running, I thought: 'You should just go home,' that's how bad things seemed."
No turning back
Fortunately for BPDTS and the Department for Work and Pensions (DWP), Adam didn't turn around. Instead, he skidded into the interview room, red-faced, sweaty and puffing. The interview panel included his potential Task Manager, Clive Rae, and Digital Service Practice Manager, Garry Crooks.
"I remember Clive asking me if I needed a glass of water. I declined, saying, 'no thanks, I'm ready, let's just do this.' My adrenaline kicked in, and I ended up talking to them for an hour, answering all their questions, asking questions, telling them why I loved networks and engineering."
Adam's enthusiasm for computers and networking won everyone over. A week later, he received word he'd surpassed all the candidates, securing his dream job as an Associate Engineer. "I pinched myself to make sure I wasn't dreaming; no, it was real."
Fast forward a year
Today, Adam works in a small team focused on administering the communications backbone for BPDTS and DWP. The team is lean, comprised of 6 engineers who are responsible for the entire DWP and BPDTS workforce. "We've got some incredibly competent people working on a small team. We have to support one another, communicate well, and know what role we play. We're juggling many different products, ensuring they all work seamlessly together," says Adam.
Due to COVID-19, the team quickly ramped up the capability to provide complete remote services for everyone. The team also expanded the communications perimeter to include citizen interaction, for example, connecting all DWP's jobcentre workers with the people who need benefits.
Still running fast
Shifting an entire workforce from physical to remote interaction is challenging in the best of times. The pandemic created an urgency to move swiftly. Adam explains: "Substituting the physical interaction everyone would normally have has come with challenges. We've made great strides and progress, and we're still learning."
While Adam's work is behind the scenes, what he and the team do creates a lifeline for many. He and the team have rallied to the challenge of keeping 80,000 employees working who in turn are helping millions of citizens. "Our work in collaborative communications has been recognised by both BPDTS and DWP leadership, especially for how we streamlined the approach to rolling it out to everyone so quickly."
According to Adam's Task Manager, Clive Rae, "Adam's shown exceptional growth since joining the team. We recruited him to do some of the more mundane lower-level engineering tasks, but as he developed, he soon outgrew them and is a valued engineer in our team."
From new to knowledgable
As part of a small engineering team, Adam's skill set, particularly his use of Microsoft PowerShell is in high demand. "I'm mainly the person who gets the scripts written using PowerShell."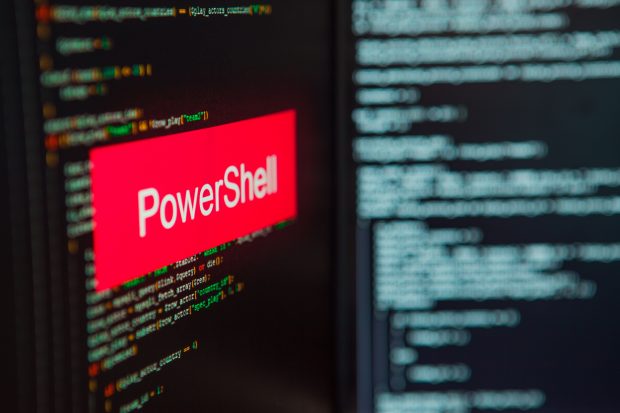 Adam developed his PowerShell skills as part of his role as an Associate Engineer. Although briefly introduced to PowerShell as an apprentice, he lacked the confidence to dig into it. "Back then, every time I tried, I had no idea what I was doing. I had all the resources, but no training. I didn't want to take any risks for fear I'd do something wrong."
At BPDTS, people are encouraged to develop and refine their skills. Adam wanted to learn how to script, so his team showed him how. To further his knowledge, he attended training at Microsoft's Reading headquarters just before lockdown.
The course was a pinnacle event for 2 reasons: first, as an avid gamer, Adam couldn't resist peeking in the Xbox room every chance he could. But more critically, the tips and techniques he learned on the course set him up to excel during COVID.
"It happened so fast. Before lockdown, I attended a training course that proved invaluable. Now, people look at me and say I'm the PowerShell guru. It's mindboggling how I've been able to level up my skills in less than a year and a half."
"It's been great to see Adam develop personally. I've enjoyed seeing a quiet, slightly nervous person grow into a confident young man who interacts well within the larger department and has quickly gained their respect," adds Clive.
Continuous improvement
"The training boosted my ability to write scripts significantly. What I learned enables me to work smarter. Using hotkeys, reusing code, and using different add functions and loops save time and effort. Now, when other engineers need a script, I can easily 'Frankenstein' one from my other scripts, creating what they need," explains Adam.
Not only that, whenever Adam looks at his scripts, he's also eyeing them over to find more ways to improve them. "My philosophy is to make continuous improvements daily. I take the time to go back, review scripts, removing extraneous code, making it more compact and precise. To me, that pretty much sums up how we work at BPDTS. We constantly challenge ourselves to do better."
Using PowerShell every day has honed Adam's ability. He's still a bit surprised when other engineers come to him for help. "I'm the youngest engineer on the team. Knowing I can keep pace with the calibre of people here is such a confidence booster. If I can do this now, who knows where I can get to in the next 5 to 10 years."
A bright future ahead
"Adam is an exceptional talent for such a young Infrastructure Engineer; he is adding quality work outputs and value to the organisation. Adam is highly dedicated and focused on his personal development and growth; with the right support, development and coaching, he has excellent potential for a very bright future in the IT industry," explains Garry Crooks, Adam's Digital Service Practice Manager.
Adam is currently registered as a mentee to develop his capability and is always looking for development opportunities. Adam says he's in a great spot in his career: "One year on, after an auspicious interview, I'm learning new things every day, increasing my skills and knowledge base, experimenting with new tools, while providing a vital platform at such a critical time."
Success factors
For anyone thinking about joining BPDTS, here are a few of Adam's keys to success.
Accept people for who they are
"We all have a unique mindset and worldview; but as a team, we work towards a common goal. When you can be yourself and accept others as they are, you can gel. At BPDTS, it's okay to be yourself. As one of the youngest engineers in the department, my interests and hobbies aren't the same as some of my colleagues; but that doesn't mean we can't all appreciate one another – personally and professionally."
Have a good sense of humour
"Responsibility doesn't come without stress. When you're running fast, working hard to overcome challenges or plough through barriers, you need to get on with your team. Injecting a bit of laughter into the day is a great diffuser, and it helps everyone to blow off a bit of steam."
Look after your colleagues
"We rely on each other. To make the most of everyone in a team, you need to understand what strengths and weaknesses we all have as individuals. We succeed as a team, not as individuals. That means making sure we have each other's back. Between lockdown and summer, working parents have had a tough time juggling working from home and caring responsibilities. In our team, we support each other. We're working in a new normal. Thinking about what that means for different people is fundamental to maintaining a good work-life balance."
Share knowledge
"Everyone I've encountered at BPDTS, especially in the engineering community, advocates knowledge sharing. When you're new, you're filled with questions. People invest the time in you because they need you at full capacity. The culture of knowledge sharing doesn't stop with your team either. It's accepted practice that people will need to reach out and ask other teams about how to do things. I might have questions about a solution outside of our area, but which could affect our unified communications solutions. Technology doesn't operate in a silo and nor should our thinking."
Keep an open mind
"Come in with an open mind and have the willingness to work with others to solve problems. Don't just sit there by yourself and try to get through your work alone. The stakes are too high in the environment we're working. We have to work as one big team. You fail and succeed as a team, not as an individual. It's how things are, and not just in the current environment.
In networking, one person can't administer the whole system. Loads of people will have different software and systems, they need a variety of tools to do their jobs, and they all bring varying experience and skills to the table. The same rule applies no matter where you're working.
One person can't do everything; you just must stick together, essentially tapping into the wealth of capability around you. If you're passionate about what you do, having someone come and ask for help is the best compliment a person can give."
Keep learning
"The best part about working at BPDTS is I can keep learning. I can go on courses, gain experience, use more professional development tools, dip in and out of online classes. I can do all that at work as part of my job – that's amazing," says Adam.
Stay up to date with what's happening at BPDTS. Sign up for email updates whenever new content gets posted.
Connect with us on LinkedIn, and follow us on Twitter.
Are you thinking of joining us? Please have a look at our current job openings.