Hello there, I'm Garry Crooks, a Digital Service Practice Manager (DSPM) for Infrastructure Engineering at BPDTS Ltd. I came across the Blood Bikers at a health fair a couple of years ago, and it seemed like a fantastic opportunity to do something both on my motorbike and for a great cause with my spare time.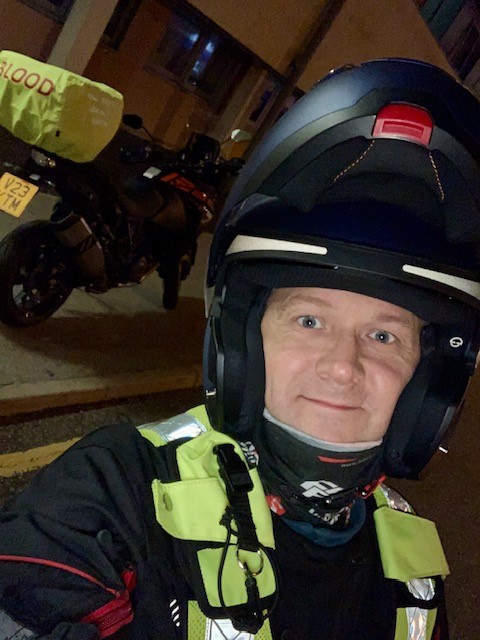 Blood Bikes Lancs & Lakes is a charity organisation providing transportation of urgent and emergency items – out of hours. The free, professional, voluntary service operates out of normal working hours, delivering blood, platelets, samples, donor breast milk, patient notes, and theatre equipment.
What I get up to in my spare time
Blood Bike Riders deliver anything that can be carried by motorcycle, solely for the benefit of publicly funded emergency services and the patients being treated by them, within the NHS Hospitals. We provide this service through the night, and 24 hours per day at weekends and bank holidays, to the best of our ability, enabling hospital funding to be better spent on patient care.
To begin the journey as a Blood Bike Rider, I paid for an Advanced Motorcycle Rider test through the Institute of Advanced Motorists (iAM). I conducted my training with South Lancashire Advanced Motorcyclists (SLAM) and achieved a F1RST pass on my assessment, which is a faultless assessment (cue the cheesy-grin).
The night rider shift begins
My Friday night volunteer shift runs from 7 pm to 7 am Saturday morning. The shift starts with preparation. First, I make sure my helmet, boots, gloves, and gear are all set out and ready to go. Next, I get on the bike for a quick pre-ride check of tyre pressures, chain, and fuel. Check, check, check. Now I wait in anticipation, loitering about the house until that call from the volunteer controller is made.
Getting the call
The controller is responsible for dispatch and tracking of all Lancashire and Lakes region riders. There are around 14 of us covering a multitude of hospitals at any time. Ring, ring; the mobile goes off and a touch of adrenaline kicks in. I answer the call and confirm the collection and drop off location.
My usual route is across the M65 from Blackburn to Burnley, Colne, Nelson, Accrington and a few in between. Randomly and way off my patch, I get dispatched to go from Blackburn to Manchester General (following SatNav as I haven't got a clue, I'm from Central Scotland and have lived more of my adult life overseas than I have in the UK).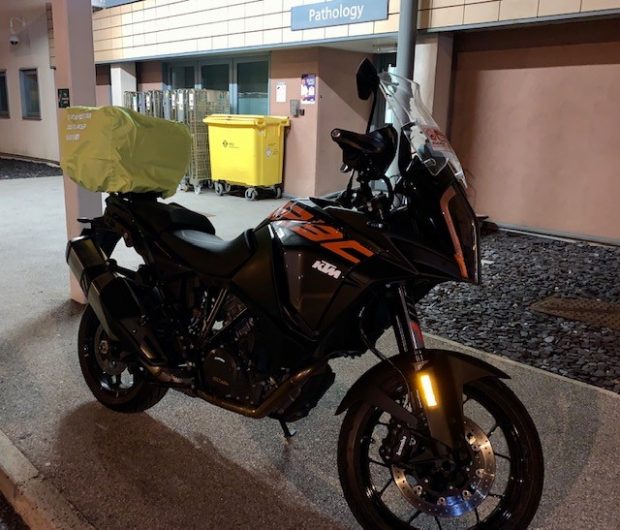 Delivering with speed and safety
Even though we are on urgent runs, we still need to remain within the legal laws of the highways. If you are into motor biking, you would not ride the motorways between any of the hospitals as you'd much prefer the twisty roads. However, in the interest of safety and speed, we always use the most direct routes; this also allows for us to be easily located if an accident occurs, or if we don't check in with the controller in sufficient time. In the event we don't check-in, the 'biker-down' alert gets cascaded to the other riders and also to the area manager until communications are re-established, or the biker is found – re-assuring … on some levels.
Mission accomplished
Once the delivery is complete, we can head home for a brew and await the next call. At each stage, the controller receives text communications for; package collected, package delivered, heading home, home safe. The last one is just as important because if you don't send it, the controller gets on your case and on the verge of raising the 'biker-down' alert … that's one way to become popular at 3 am on a Saturday!
BPDTS fully supports volunteering
Although my role as a Digital Service Practice Manager in one of the largest practices at BPDTS keeps me pretty busy, volunteering is in my DNA, and it's important to me. BPDTS supports my charity volunteering on several fronts.
Paid charity days. BPDTS offers different options where I can use paid charity days to conduct fundraising, training, and many other requirements from being a member of a charity organisation. The benefit is fantastic as it means I don't need to lose a day of pay to support the charity.
Smarter working. Our Smarter Working policy allows me to manage my time effectively and not be an 8 am to 4:30 pm employee. Our CEO's focus is on delivery and outcomes, not spending hours tied to our laptops or work stations. If I need to start later on any day, it's an accepted norm.
If someone has parental duties or needs to attend personal appointments, that's a well-trodden path. We are trusted as professionals to get our jobs done on time while maintaining a good work-life balance. The progressive policy contributes to why BPDTS is such a great place to work.
BPDTS has a whole workstream and team of individuals dedicated to charity support throughout the business. Our Making A Difference for Everyone (MADE) team is continually generating charity support efforts, and everyone in the organisation is encouraged to be as involved as they want to be.
BPDTS core values in every mile
For me, Blood Bikes amplifies BPDTS core values – Pride, Opportunity, Inclusivity, Simplicity, and Expertise – P.O.I.S.E.  These values hit a significant chord with my Blood Bike volunteering, aligning well with all of them.
Pride in what we do. I take an abundance of pride in being involved in and volunteering for such a fantastic charity, providing vital services to our NHS, potentially saving lives and also saving them millions of pounds each year.
Opportunity. The value is about seeking out opportunity and grasping it whenever possible. That's precisely how I came about being a member of the charity. I was made aware of their role in supporting the NHS, and I have a passion for motorcycling. Rather than sitting doing nothing with my free time, I set a plan to become a member and followed through with it.
Inclusivity. The charity members come from all walks of life, not only riders but also controllers, fundraisers, and charity committee and Board members. They made me feel welcome even though I didn't know anyone involved. The entire community is hugely supportive.
Simplicity. I've applied the learning from within the BPDTS family to simplify a few of the charity's processes. For example, there's a lot of spreadsheet management for rotas, mileage tracking, and vehicle maintenance schedules. After reviewing the sheets, I introduced some automaton suggestions, and they've been submitted to the Board for approvals and implementation.
I am also hoping to improve the communications system by implementing something similar to the GoodSAM! Responder App. I believe their solution can be adapted to suit our user requirements.
Simplicity also applies to rider practices. For example, the routes are simplified to ensure safety in case of an incident and broken down, or injured riders can be easily located.
Expertise. Every rider needs to be professional, competent, and confident on their motorcycle. To use the liveried bikes (the ones that look like police bikes), you need to take a course and pass a test for an advanced riding qualification. When you start with the charity, your riding skills are assessed during an induction period, where you are shown the routes and the hospitals we transit between in our locale.
Juggling work and a full-time job
Juggling what I do in the evening as a Blood Bike Rider with the day job is worth it. The management within our BPDTS Engineering Practice is excellent. The practice and the organisation are very supportive and empowering. I'm grateful to have their full support to conduct my out of work activities.
When I finish at 2 am and can't sleep until around 3 am as I'm still hyper from riding, I have a few options from our Smarter Working policy. For example, I can work from home and set my alarm a bit later.
I'm in the driver's seat with my schedule and can effectively manage my time and calendar, starting work later when necessary. Although I try to book my shifts on the rota for suitable times that won't impact significant business requirements, I know the support is there for me within my Engineering team if I need it.
How you can get involved
Blood Bikes Lancs & Lakes is a fantastic charity. Everyone involved is a volunteer – riders, controllers, fundraisers, presenters, and even automobile drivers who complete 'regular runs' during the day.
There are many ways you can help to raise money for the charity. You can learn more about what we do on their website. Once we get on the other side of COVID-19, the team would be happy to arrange to give you a presentation – with the bikes on show.
Thanks for reading. Remember, the next time you see a biker on the road, they could be delivering some much needed medical support.
Learn more about BPDTS
Stay up to date with what's happening at BPDTS. Sign up for email updates whenever new content is posted. Connect with us on LinkedIn, and follow us on Twitter.
Are you thinking of joining us? Please have a look at our current job openings.