My name is Anne-Marie Goulden; I'm a Digital Service Practice Manager in the Engineering practice at BPDTS. In the last year, I've been part of the work stream focused on continual conversations and performance management. Today's post is part 1 of a 2-part series that explores how BPDTS is taking a bottom-up approach to change management.
BPDTS is a young, thriving technology organisation with a real focus on its people-centric organisational approach. Since its inception in 2016, BPDTS has grown at an accelerated rate. In the last year, we've taken the time to evaluate how we manage and lead our workforce, looking at how we can support our employees and managers to excel and how we can improve our processes to create an even better working environment.
According to Rich McHugh, Head of Digital Delivery at BPDTS, "organisations experiencing rapid inorganic growth are challenged to create a broader vision that keeps everyone steady in a sea of constant change. BPDTS is working to really hone its long-term plan."1
Empowering our people
BPDTS takes a grass-roots approach to change management. Using a combination of 1-to-1 meetings, listening sessions, polls, hub stand-ups, and our annual People survey, BPDTS solicits input from all its people. The insight from these methods shows us what's working well and where we can improve. We use this feedback to prioritise the change we need to meet our cultural ambitions.
We use cultural work streams comprised of a cross-section of employees, managers, and human resources to affect change. The work being done in these work streams is what's transforming our organisation. Career conversations and career progression are 2 of BPDTS's cultural themes that are truly supporting our people-centric approach. These 2 work streams aim to enhance the quality of engagement between the employee and manager while ensuring consistency throughout the organisation.
Using a 2-pronged approach, we're preparing our managers as coaches and creating an environment where employees take ownership of their personal development.
Rebalancing the employee | manager ratio
When I first started at BPDTS, I sat near an individual who was managing 90 staff. The manager was recruiting heavily to meet the needs of our rapid growth as a service provider to the Department for Work and Pensions. As a service-driven organisation, talent acquisition is critical, and the recruitment process is rigorous. In this situation, between interviewing, on boarding, and admin, there's not much time left for pastoral care and coaching.
Fast-forward 18 months. New Digital Service Practice Managers (DSPM) have been appointed to reduce team sizes to allow better engagement to happen in the people management space. We've invested time and resource to increase the number of DSPMs. By listening to our managers and employees, we improved the ratio of managers and employees, rebalancing how our people are managed. Now, that same individual is managing 20 people, not 90.
Enabling consistency
Consistency in how our people are managed was a challenge for the organisation. The depth of employee/manager engagement was far too varied across different teams. As people moved around in the organisation, working in different teams, the inconsistency became glaringly obvious.
An employee/manager conversation involves 2 people; it's the impetus from the individual, but it's also the willingness on the manager to engage in that conversation. If a manager doesn't have the time, even if they are willing, the quality of those conversations will suffer. Rebalancing ratio of employees and managers gives managers more time to engage with employees in a meaningful way.
Introducing continual conversations
In May, we launched Continual Conversations, establishing a new norm where continual discussions can take place between our people and their managers. Now, employees can be at their best, be appropriately recognised, and supported in continually developing skills.  The platform gives individuals a means to consider the why, what, and how of their development choices. Continual Conversations is the platform; coaching is the method.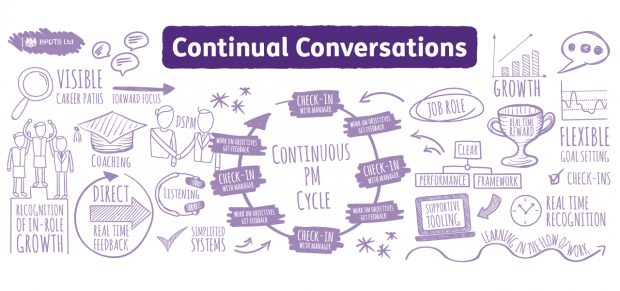 Continual Conversations enable individuals and managers to improve and deepen their relationship; they help cultivate authentic, meaningful relationships, and dialogue; they also provide a continuous loop for feedback. The employee owns the agenda; they shape the discussion based on what they want to achieve. Employees need to think, "Where have I demonstrated ownership of my progression or path? How am I engaging with my manager? What am I doing to bring about the change I want to see in my role?"
What's that change mean in practice? After the new manager intake occurred, my team was reduced by nearly 45%. Now time is no longer a gating factor; the individuals I manage can have continual conversations with me more frequently. The tone and quality of our discussions are based on coaching, not instruction; the emphasis is on strategy, not administration or box-ticking. The caveat is, it's up to the individual to engage with me as a manager – they're in the driving seat, not me.
The role of the coach
Coaching is a skill – just like coding, accounting, and communication. A manager has to be willing and able to understand what coaching is and how to do it. Coaching is at the heart of the relationship between managers and employees. Through awareness and understanding of an individual employee's aspirations, a manager is better placed to provide valuable input, feedback, direction, and visibility for a member of their team.
BPDTS Lead Agile Delivery Manager, Steve Mounsey, is running a coaching programme to help train managers as successful coaches. Steve's sessions address questions about how we interact with each other as individuals and in teams; what our communication styles are like; how we manage conflict; and how we can connect to achieve better outcomes. The training helps managers and employees. It's teaching us to take more ownership of what we're doing.
Learning from experience
I'm proud that I'm helping to create processes that empower our people to take control of their path, performance, and career. For me, being part of this change is a profoundly personal experience.
I started my career as a consultant with a global technology company. In that role, I was deployed into projects with customers, delivering projects and outcomes with them. In one of the projects with the DWP, our team worked hard to deliver on time, meet objectives, and achieve the outcome the customer wanted. It took months to get to the point of go-live, then transition for go-live, working solidly for weeks. It was the toughest project I've ever worked on, and the most rewarding.
After the project finished, I remember meeting with my manager, who was also the practice manager. In my review, the practice manager gave me the rating of 'meeting expectations'. I expected a different rating and was livid. However, on reflection, I realised I had failed to manage my manager. During that time, my manager never took the time to ask how the project was going; nor had I taken the initiative to update them.
As an embedded employee within a project team, visibility with your line manager is low. That person doesn't see the day-to-day; they're not involved in that team's triumphs and failures. What was I doing to raise that awareness? How was I taking the reins to keep my manager abreast of the successes?
I never once got them on a call and talked through everything we were doing, why we were doing it, and more importantly, the progress we were achieving. Instead of taking control of the conversation, I focused entirely on the tasks and what I was doing. That's why now, as a manager, I ask the individuals to tell me their story: 'Where do they want to go? What do they want to achieve, and what's their plan of action?'
Continual feedback
When employees can come and tell their story – 'this is what my year looks like, it consists of these skills I want to learn', they become part of the organisation's transformation. That story, as it unfolds through continual conversations, consists of everything our business is focused on and how we need to adjust priorities to meet changing conditions.
It's a different mindset. Rather than focusing discussions around measuring how a person is doing, we want to see people taking in feedback, recognising what's been said, acting on the input, and then experiencing a change in the form of a shift or growth.
As coaches, managers will be adding more value all along the way, helping individuals to document their development story throughout the year based on the feedback they sought. By offering consistent, meaningful, and regular feedback, individuals can pivot and be measured against what's happened and how they evolved or developed.
People-driven end-to-end
BPDTS colleagues actively improve the environment in which they work. Based on employee suggestions and feedback, employee-driven workgroups create and introduce new approaches to transform the company. That's a powerful end-to-end change model; just one of the many reasons working at BPDTS is so rewarding.
Since introducing Continual Conversations, we've used employee feedback, looked at best practice across the public and private sector, and identified changes to our performance management approach. In my next post, you'll learn more about how BPDTS is adopting an agile performance management approach.
End notes
1 Taking opportunity when it knocks, Rich McHugh, BPDTS