The pandemic has driven swathes of the global workforce out of the office building and into living rooms, kitchens and home offices. The collision of our personal and professional lives is likely a trend that's here to stay for some time.
For some people, remote working is a dream come true. They've left the commute behind and are rallying around the advantages. For other people, spending long hours on back-to-back calls and working without regular breaks is a test of resilience.
Overcoming meeting madness
Our offices look a little different these days. Lunch breaks are 2-minute sandwich cram sessions; coffee breaks have turned into 10-second walks from the dining room to the kitchen and the only way we 'unplug' is when we unplug our devices at the end of the day. These days, we don't even do that much unplugging, as we go from video meeting marathons during work hours to video chats with family and friends after work.
We've all been there. Meetings are running back to back, some of which we didn't need to be at. By the time we clock off, we're exhausted, frustrated and disheartened that we haven't achieved what we wanted doing.
Throughout lockdown, video conferencing technology has had enormous benefits professionally and personally. Virtual meetings have kept people connected, but care may be needed to maintain your wellbeing and productivity.
The good thing is, you can help yourself and your colleagues to overcome meeting madness. To help, we've compiled a few hints and tips from BPDTS colleagues. If different things have helped you and you think they could help others reading this, please add your ideas and suggestions as comments.
Essential meeting etiquette tips:
never leave a meeting request unanswered, remember to go back and accept or decline anything tentative
if you can't attend a meeting, send some comments with your decline to the chair or have a quick chat, so your input is included
if you can't participate and need to be there, propose a new time rather than decline saying can you re-arrange
use the scheduling assistant
if you've altered your working pattern to accommodate a caring responsibility, block out your calendar for when you're not available
consider changing your permissions so everyone or your team can see the headings in your calendar; you can still mark items as private
if you can prepare for meetings in advance. Categorising/colour coding the meetings can help as you can more easily see ones you might need to prep for
after the meeting, send out bullets with the key points and actions
Only invite people who need to be there
Pause and think: Is the calendar invite you're about to send to those 12 people really needed? Just because it's how it used to be done, doesn't mean it can't change. It may have been business-as-usual to invite many people to a meeting so that everyone is 'in the loop'. While that may feel considerate, it could also be a waste of time and money.
Think about who you invite to a meeting and which meetings you need to attend. The general rule of thumb should be inviting others to meetings who need to know and are going contribute, and only accept meetings you need to be at too.
Allow time for uninterrupted working
Everyone needs chunks of time during their day to work uninterrupted. Meetings can be one of those interruptions. To inoculate yourself, strategically block your calendar to work on the crucial tasks for your week.
Schedule time to allow for and to take breaks
Nothing is worse than back-to-back meetings, day after day. To help alleviate this situation, protect yourself by either blocking time on either side of existing meetings on your calendar, or use technology to your advantage.
If you want to meet with someone, and you can see they only have 10 minutes between meetings, think whether what you want to talk about is important enough to deprive them of the chance to stretch their legs, make a cup of tea, have a comfort break and generally look after themselves.
Many meetings start on the hour and half hour. It's just the way they've always happened, but it doesn't have to be that way. If you are arranging a meeting, think about scheduling starting or ending sessions 5 minutes later or earlier, respectively. This habit gives people more flexibility to regroup and re-energise between calls.
Make the most of the meeting time
Instead of designing your agenda as a laundry list of topics, consider creating your agenda as a set of questions to be addressed. In its purest form, the meeting exists to answer a set of compelling questions in an allotted time.
If you're on the receiving end of a calendar invite and you don't see an agenda at all, speak up. Ask the requester what the purpose of the meeting is and to present an agenda. If they don't — not even a simple one that's in the meeting request — don't go.
Meetings should be designed for discussion, collaboration and answering questions; not sharing lots of detail. If there's detail to be shared, think about sending it out in advance, allowing people plenty of time to come to sessions prepped and ready to add maximum value from the get-go.
Understand and accept there is a new norm
Noise and disruptions are a natural occurrence in any working day and occur whether you're working from home or in the office. We all do what we can to minimise these things when we're working from homes, but the doorbell may ring, the dogs might bark, or young children may want a biscuit during a meeting.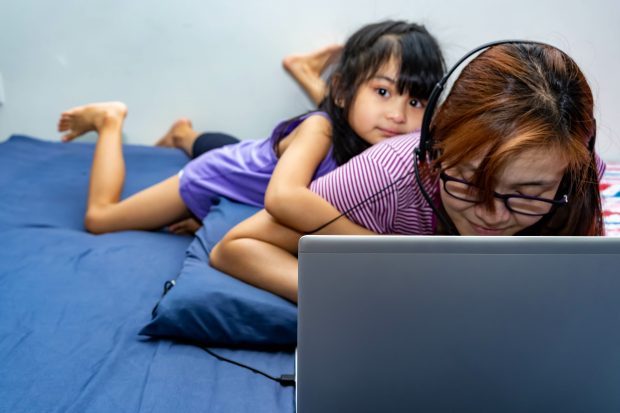 These things will inevitably happen at the most critical moment in the meeting, and the people experiencing this can feel quite embarrassed. If you need to step away from your station during a call, add a message into the chat to say you are away from keys (AFK).
Be considerate
You may feel overwhelmed with meetings, but ultimately the change in behaviour starts with you. How you respond to the people around you will impact how well people transition, no matter what guise the future of work holds.
An organisation's people are central to success. Enabling employees to work in new smarter ways – helps them deliver better services, makes them more productive, and improves their health and wellbeing.
At BPDTS, we care about our people's health and wellbeing. Providing the right working environment in which we all feel safe, supported, valued and heard is at the heart of everything we do.
Learn more
Stay up to date with what's happening at BPDTS. Sign up for email updates whenever new content gets posted.
Connect with us on LinkedIn, and follow us on Twitter.
Are you thinking of joining us? Please have a look at our current job openings.