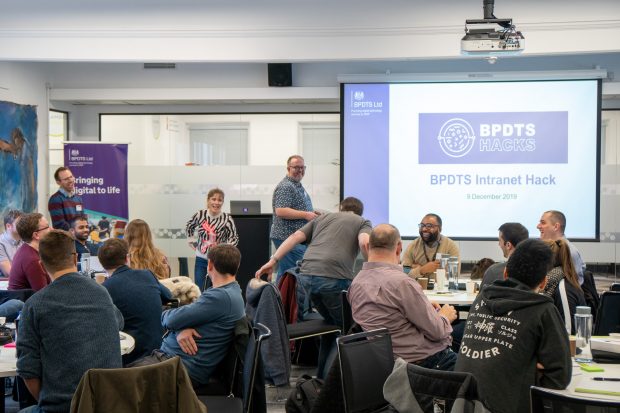 In my previous blog post, 'How to hack your way to the winner's circle with co-creation,' I focussed on the 3 solutions our hackers created during the BPDTS Hackathon in December. In this post, I am exploring why hackathons are becoming an increasingly popular way to instigate changes at the end-user level – in the private, public, and third sectors.
Luke Oatham, Director at agency AGENTO DIGITAL, was one of the stars attending the BPDTS Hackathon in December. The agency owns the WordPress template BPDTS and many other GOV.UK agencies use. The roots of the WordPress theme template first took hold in 2012 when Luke developed it for the Department of Culture, Media and Sports.
"They were over the moon with the solution we built for them. After they blogged about how great it was, everyone else wanted it, too," explains Luke. At that juncture, Luke needed to make a decision: Should he make the code available to everyone via open-source, or retain the intellectual property as a proprietary template?
The dilemma: freemium vs. premium
Luke has a long history in the public sector, having worked as a civil servant for many years before starting his business. Moving his proprietary solution into an open-source environment was a dilemma. Luke wrestled with the decision to go open-source. As a small business, he needed to consider the impact of giving away something he had hoped to continue to sell.
However, as a former civil servant, Luke understood all too well the challenges any public sector department faces. "We created the template for one department that paid for it with public funds. Letting other public sector bodies use the same code was the right thing to do – and open-source was the way to make that happen," explains Luke. But, as a small business, how long could he afford to sustain a freemium model?
Evolving the business model
Choosing to open-source the code turned out to be pivotal for Luke's business. The freemium model worked well for a few years. However, as more departments started to adopt the theme, he faced more and more change requests. The agency remained pretty busy keeping up with an expanding set of client demands, including a range of bespoke functionality, version upgrades, enhancements, and fixes.
To keep the WordPress theme relevant and reflective of its user's priorities, Luke evolved the solution, launching a premium-tier offering in addition to the freemium version. "Now, there are more than a dozen different GOV.UK departments using the premium version – including the Cabinet Office and Crown Commercial Services," Luke adds. Additionally, several arms-length organisations, such as the Department for Environment, Food and Rural Affairs' Forestry Commission and Kew Gardens, have also deployed the theme.
Solving problems in self-organising groups
Hackathons are inherently disruptive – designed to instigate change through groups of self-organising individuals. Hackers adapt, modify, and transform intellectual property. They help generate new ideas, share and acquire knowledge while discussing and developing potential new features and functionality. A hackathon brings a roomful of business and technical people together to solve a problem.
Hackathon participants come from all levels of experience, background, and capability - the more varied, the better. It's that diversity in a room that drives new ways of thinking about a problem. Uniting to solve problems gives everyone a chance to challenge themselves, demonstrate capability, enjoy the buzz, and have a voice.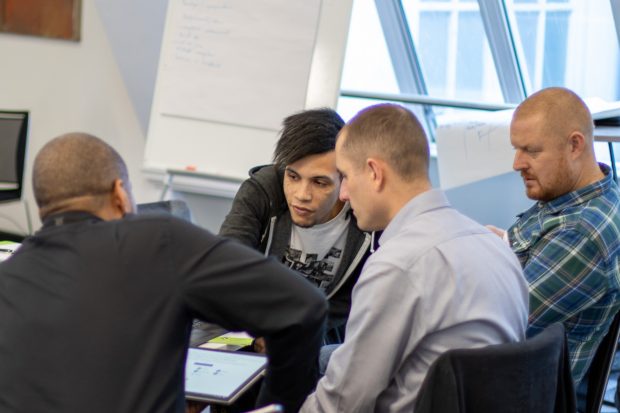 "December's event was officially my first ever hackathon – what a fun, productive day. I met so many new people. I'm looking forward to the next one already," says Natasha Smethurst, BPDTS, Manchester. Whether you're a newbie like Natasha or a serial hackathon attendee, hackathons allow you to have fun. The hackathon was an eye-opening experience for Luke. "BPDTS is one of our most technically-savvy clients. Their hackathon was my first-ever hack," says Luke.
Opening the door to co-creation
There are undoubtedly standard features and capabilities used within a cross-government template - the people directory is one example. There are also several add-ons which can be deployed more broadly, depending on each client's requirements. It's this added functionality that Luke is keen to explore, and something the hackers in Manchester are helping to surface as prototypes for users to try.
The agency's clients are starting to ask for new features. "When multiple clients start asking for similar features, and you go to a hack where that same idea or feature surfaces, it means that team is on the right track," adds Luke. Based on Luke's knowledge of his current clients' requests, he's confident the proposed solution devised during the hack merits a second look.
Even better, with the same template in use across many GOV.UK departments, he thinks all of the BPDTS Hackathon solutions have potential value across other sites. "If the BPDTS hacking teams can influence the shape of the agency's WordPress theme, everyone's a winner – the hackers, the users, the clients, and the business," explains Luke. The next step is to work with the teams to finalise the minimum viable products, then determine how and when the new code might integrate into the template.
Creating a groundswell for end-user innovation
Hackers are creating a groundswell for end-user innovation and co-creation. Tapping into customers and end-users is an approach that is gaining ground in the private, public, and third sectors. Lego is an excellent example of an organisation that successfully recreated itself through open innovation and co-creation. Loss of identity, brand differentiation, and customer attrition challenged Lego to embrace a new direction driven by its fans. By involving its customers in a new business venture, Lego became an open-source company defined by its innovation processes.
When Lego launched Mindstorms, a hardware-software platform to develop programmable robots built with LEGO bricks, hackers reverse-engineered the software to improve the way the robots operated. After initially considering legal action, the company stepped back to look at the bigger picture. Suddenly they could see an entire community of users collaborating and discussing innovative ways to improve Lego products. As a result, the next iteration of Mindstorms was co-created with Lego customers. Mindstorms became one of the company's greatest success stories because of the end-user community's involvement.
Embedding open innovation and co-creation into your organisation's DNA
Co-creation offers excellent value to organisations, provided it generates the right mix of innovation. Co-creation helps drive continuous cultural change from within an organisation. It can also improve and sustain both end-user and employee satisfaction. But it's hard to achieve real transformation when an organisation becomes mired by rigidity.
Adopting agile principles breaks down silos, improving cross-organisational visibility, and communication. Embracing an open and participative leadership style increases engagement. Listening to your community's ideas paves the way for better outcomes. Don't be afraid to open the door to open innovation and end-user generated designs.
Learn more
Crowdsourcing innovative solutions in both the private and public sectors – through hackathons, user-experience sessions, and user feedback can create better customer experiences. Read my previous blog post to learn how everyone wins through co-creation.  If you have any questions about the solutions created during the hackathon, please contact me to learn more.