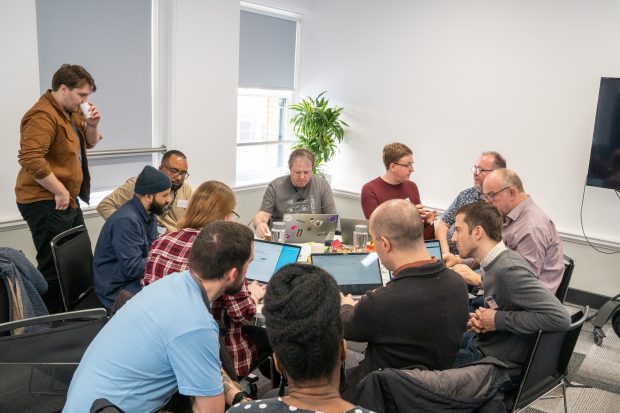 In December more than 50 people met in Manchester to attend a BPDTS Hackathon. Throughout the day, 3 teams worked diligently to support the hackathon's objective: how to improve the employee experience using the intranet as a platform. By 10am, the BPDTS Hack was well underway.
The teams formed to build 3 distinct solutions:
an enhanced employee recognition portal
a new book sharing application
a skills matching plugin to use as part of the BPDTS mentoring scheme
Huddled around tables, whiteboards, and laptops, our hackers spent the morning debating features and capabilities, and assessing minimum viable products. With the coffee and ideas flowing, subgroups retreated to evaluate the importance of different features. By mid-morning, the walls were peppered with coloured post-it notes, drawings, and lists – revealing how the final prototypes might look.
After lunch, the BPDTS Engage team canvassed the room. They chatted with different hackers, listening to hacking stories, and gaining insight into improving future hackathons. According to Julian Balaam, Head of Communications at BPDTS, "the hackers enjoyed the chance to work with new people and learn different skills. They also provided some great suggestions for upcoming hacks."
Hack for a good cause
Not surprisingly, hacking for charity is top of mind for many participants. "It makes sense because it aligns with BPDTS core values. Taking our capabilities into the third sector, where we can help people in need, is a great way for everyone to support the things they care about," explains Julian.
The group didn't express any strong views on the scope or type of charity. Most people felt working on a charity hack would be an opportunity to share their skills with organisations that could benefit from our technical expertise.
Hack outside your comfort zone
Hackathons are about more than improving a solution or solving a problem – there are other benefits too. Using different technologies is the second big criterion on our participant's next hackathon wish list. Broadening the aperture on the technology available during a hack enables hackers to extend their knowledge of different languages, applications, tools, and platforms. It's also a chance to show it off.
Experiential learning is a more natural way to learn something new, and to share your expertise with other people. "Hackers can extend their range of skills while staying current with different technologies. A hackathon is a fun, creative problem-solving environment where people can apply new and existing knowledge. It's a learning experience that represents a core part of our Learning and Development approach," says Julian.
Hack your way to the winner's circle
Yes, the hackathon experience in itself is enjoyable. But the ultimate reward and buzz is gaining recognition from winning. It's magic when you realise your app, plugin, or solution might be adopted or integrated into the source code for a WordPress template used widely across the GOV.UK sites.
I'm incredibly proud to have hosted the BPDTS Hackathon at the Manchester Chamber of Commerce. There are so many brilliant people in our company. To see them coming together to solve problems through co-creation and open development makes it all worthwhile.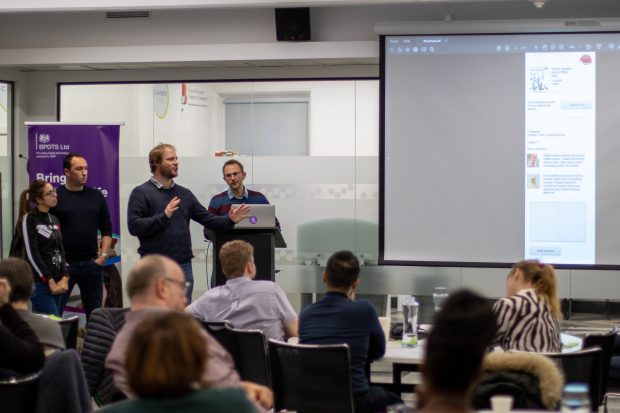 And the winner is... Team #1 and The Recognition Wonderwall 2.0
The Recognition Wonderwall 2.0 Team emerged as the winner of the December hackathon. It was a tough decision for the panel. All the project teams proposed robust solutions – which made judging especially challenging.
The winning team's brief was to build a recognition system to expand the current Wonderwall. The Wonderwall is a mechanism used by employees to recognise colleagues for contributions and achievements. The enhanced version represents the BPDTS core values: pride, opportunity, inclusivity, simplicity, and expertise. The new prototype allows multiple people to be nominated simultaneously. It enables creating digital badges that can be collected and displayed on an employee's profile. It also offers the ability to send emails to first- and second-line managers when an employee is nominated.
The December BPDTS hackathon winners successfully hacked the current intranet templates. They demonstrated their ideas in real-time using the available test environment. Congratulations to the winning team that included Joe Tetley, Anthony Carmichael, Niall MacTaggart, Karl Wynn, Zico Harris, Steve Walton, Nick Moorhouse, Darren McDermott, David Hutchinson.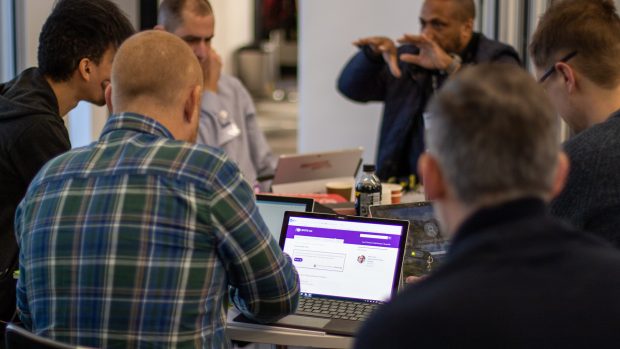 Honourable mentions for Teams #2 and #3
Team #2, the Book Sharing App team, took on a brief to develop an application for lending and sharing digital and paper-based books with colleagues. The group united to create an outlet for like-minded readers. They developed a fun way to encourage learning through reading, turning it into a more social experience. The team wanted to create an app to span both personal and professional development.
The end solution will allow a community of users to recommend a variety of reading materials to satisfy different interests. The team started with a feature-rich list of capabilities. They managed to whittle the list down to a few core features, including making recommendations, sharing opinions, and publishing book reviews.
Team #2 members include Natasha Smethhurst, Shaun Hills, Graham Punton, Darren Lodge, and Tom McDaniel.
Team #3, the Skills Mentor Matching team, had a brief to create a solution to match mentors and mentees using weighted criteria. The proposed solution reflected the primary aims of the BPDTS mentoring scheme: making it easier to find a partner and improving the scheme's visibility. The team developed a prototype to make the process of finding a mentor or mentee more self-service oriented. The solution allows potential mentors and mentees to 'shop' for a mentoring partner based on their interests, such as developing individual soft and technical skills.
Team #3 members included Emma Moore, Dave Hall, Nichola White, Stephen Blakeley, Leanne Bayliss, Jacob Taylor-Hurst, Robert Cooper, Marcellina Boyle, Graham Davies, Washington Bhebhe, Simone Di Cola, Nathan Turney, Jade Fryer, Burhan Uddin, and Julian Brown.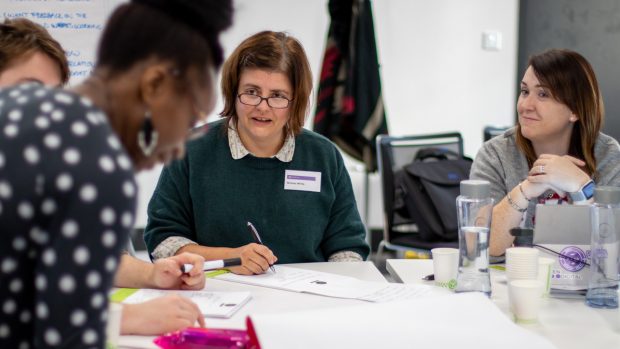 Everyone wins through co-creation and open development.
It's events like the December hackathon that make working in a digital services technology company so rewarding. Hackathons are an opportunity to step away from our daily responsibilities to meet new colleagues and form new teams. Developing new e-solutions is a creative way to solve problems, build skills, and share knowledge.
Although Team #2 and #3 were not declared the winners of the December hackathon, they will continue to build on their initial progress. Their solutions will then be tested, shared for feedback, and eventually integrated into the BPDTS intranet.
The hackathon is a win-win for everyone. In the first instance, the hackers created solutions to improve their colleague's experiences. However, all of the solutions could potentially benefit the rest of the open-source Government Intranet community, too. The icing on the cake would be to see these solutions implemented across other departments and organisations.
Learn more
Crowdsourcing innovative solutions in both the private and public sectors is driving success for many organisations. Read my next blog post to learn how hackathons are becoming an increasingly popular way to instigate changes at the end-user level. If you have any questions about the solutions created during the hackathon, please contact me to learn more.