My name is Matthew Scarth, and I'm an Agile Delivery Manager working for BPDTS. I'm currently supporting the delivery of a product called Bank Validation, which is one of the capabilities under the Future Payments programme of work.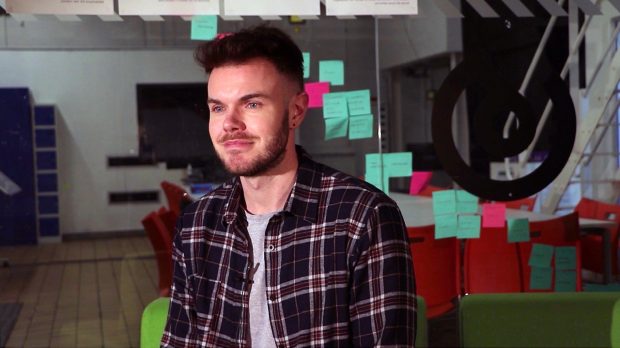 The project objective is to enhance payments functionality within the Department for Work and Pensions (DWP), making everything easier to manage, interchangeable, and best in practice technology. My team is synchronising this process, working towards creating a single source of truth for bank validation across the DWP estate. A centralised solution and process will save the DWP time, money, and resource.
Delivery manager on board
Before any team can make progress, it's essential to understand what your commercial partners' needs are. That's where I come in.
A primary role for the delivery manager is to interface with the product owner, understand what their requirements are, share them with the team so they can act on them and escalate any issues that arise.
It's my responsibility to work across the team to iterate based on feedback and tweak processes to deliver on time. Along the way, I have to make sure the team is working at the right pace to support the delivery and help them reach a level of self-organisation.
Managing blockers and dependencies
The more reuse and automation that's built into our solutions, the faster we can deliver new functionality within DWP services and make it available to DWP agents working with citizens. Managing blockers and dependencies by liaising with third parties are some of the success factors for any project. For example, my team works closely with integration to unlock the functionality we need for the product, which also follows the departments engineering blueprint.
Testing my mettle
My experience supporting the payments project has tested my mettle. Our team on boarded multiple new members during our first lockdown. Getting a team working together towards the same goal, ensuring the right resources are in place with the necessary capabilities can be challenging when you first join a team.
On this project, half the team was familiar with Agile methods while the other half were at the beginning of that learning journey. In the role, I had to change channels with different members of the team depending on where they were on that spectrum. What I learned along the way is how important it is to coach people on their journey.
Rowing in the same direction
I invested a lot of energy in coaching the team in agile ways of working, making sure they understood the methods and were happy to buy into agile as a way of working and being able to demonstrate the impact of doing so. The most satisfying aspect of the project was shepherding people along the agile journey. As people progressed, they adapted to or adopted more and more of an Agile methodology.
Taking stock
Throughout the project, I've held on to the idea that the journey is as important as the outcome. In the first stages of our team's journey, everyone wasn't firing on all cylinders. We engaged as a team, evaluating where improvements were needed, and moved forward from there. Fortunately, the team had the breathing space to gel while allowing members of the team to ramp up on methodology or skills. We took time to hold discussions, conduct working sessions, and ceremonies.
Getting to consensus and making sure the team moves in one direction is a hands-on job. I found the biggest challenge was balancing how much time I invested in building the team through coaching and the project management duties expected of me in areas such as commercials or risk and dependency management.
Managing meeting fatigue
Admittedly, as a team, we've had to combat meeting fatigue. The whole nature of working in a Scrum mindset is that everyone's co-located and we're all sharing ideas. However, while working remotely, the team attends meeting after meeting. Even the basic things expected from a squad, such as ad-hoc backlog grooming or just a playback of ideas, for example, need to be done through conference calls. These activities would be different if conducted face-to-face, but we've managed to make it work for us.
The project has helped knit the team together. By sharing a learning journey, the team have all leaned on each other for knowledge and encouragement. The result is a better team and more empowered people working towards a common goal. That's a significant achievement for a team that's never met one another physically. I know I've grown too; the experience has boosted my confidence as a delivery manager, coach, and project lead.
Building resilience
Inevitably, the team encountered unanticipated hiccups; some were immediately manageable, while other challenges were entirely out of our control. My position is that no matter what shape the wave is, you have to ride it out. Focusing on your sphere of influence is the key to riding that wave well.
Somethings are going to fall well outside of your sphere of influence. While those 'out of your control' things are addressed, tackle what is within your sphere of influence; don't waste energy on what you can't change. It's that kind of resilience that helps individuals bounce back from disruptive or unexpected obstacles.
Instruments of success
Coaching, understanding what your team's makeup is, where they're skilled, and scene-setting – are all instruments of success. Here's a quick list of the takeaways I learned on this project:
#1 Don't make assumptions
When starting a new project, don't make assumptions about people's level of knowledge and understanding. It's vital to ascertain where everyone is on the spectrum when you land. After that, you can formulate a plan to move forward as a team while helping individuals to grow.
#2 Invest time upfront
Invest time in conversations, especially around initiation. Rather than walking into a new team and cookie cutting how you want to do things, find out how the team wants to run. Discover where the team's strengths are; know what needs to be improved; encourage people to do some learning in the way that works for them: reading, shadowing, mentoring, or training courses.
#3 Set the scene
Set the scene and make sure everyone is working towards the same goal. Having that big picture in front of you helps keep the team on track. Make sure people understand where they fit in, and where their value lies, trying to humanise it as much as possible. It's easy to look at a diagram; operationalising that diagram is the hard bit.
#4 Be a coach
The more opportunity that people have to find their way comfortably while being coached by someone that feels confident enough to be able to lead them through those sorts of unchartered waters, the better.
#5 Listen to feedback
Feedback is the pulse of any team or project. It doesn't matter if it's positive or negative. Taking feedback on board will make everybody stronger at the other side of the journey, and the outcomes will be better.
#6 Get to know people
Relationship building in such a large organisation as the DWP is essential. Working within a hierarchical organisation comes with challenges. Knowing how to interact with the different levels and layers of people will impact any project; put the feelers out and proactively engage with the stakeholders connected to your project.
Take the time to speak to someone; don't just rely on emails. If you don't know why or why not, find out; never be shy about asking the 'stupid' questions you need to know. As a Delivery Manager, it's my job to find out by taking the initiative. In the long term, your network of stakeholders and your team will appreciate the effort you took to build a relationship with them.
When people get to understand your thoughts and feelings, how your team's doing, they can be of assistance. It's easier to escalate to them; they can unblock you, lobby for you, and provide valuable insight.
Like our blog? Why not subscribe to receive more blogs like this? Sign up for email updates whenever new content is posted. You can also visit and connect with us on LinkedIn and Twitter.